5500
Orderpicker
Order Picker Forklift
High Quality for High-Throughput
The Raymond 5500 Orderpicker truck is ideal for high-throughput 24 volt applications. It offers quick acceleration and fast lift speeds to keep your operators moving. AC Drive and AC Lift motors contribute to smoother operation, greater energy efficiency and longer component life.
Inquire
Battery:

24 volt

Capacity:

3,000 lbs

Elevated Height:

366" maximum

Motor System:

AC Drive & AC Lift Motors
Customized for Your Application
| Model | Battery | Max Capacity | Elevated Height | Motor |
| --- | --- | --- | --- | --- |
| 5500 | 24v | 3,000 lbs | 366" | AC Drive & AC Lift |
| 5600 | 36v | 3,000 lbs. | 390" | AC Drive & AC Lift |
Lithium-ion Batteries

Our line of lithium-ion batteries, compatible with our family of forklifts, showcases our dedication to advancement. These batteries are designed to seamlessly integrate into your lift trucks providing advanced data insights and wireless communication for remote diagnostics and upgrades.

Use our Lithium-ion ROI calculator to calculate the cost savings you could be receiving by switching to Lithium-ion batteries within your current fleet.

Start Saving
Built to Perform
AC Power

Equipped with our exclusive ACR System, the 5500 Orderpicker has lower maintenance and parts costs, fewer service requirements, increased battery performance, and superior truck utilization rates compared to DC-powered lift trucks. That means a better bottom line for you.

Cover Access

The impact-resistant cover allows easy access to the drive tire and other components for convenient service access.

Comprehensive Self-Diagnostics

Audible and visual signals alert operators instantly when service issues arise, and provide detailed information to simplify troubleshooting and service.
Battery Commonality

Standard battery compartment widths and the 24 volt battery allow for standardization of batteries across various models to reduce battery and charger area.

LED Light and Fan Package

Improve operator visibility for case and piece picking tasks with the optional LED light package.

Fully Programmable

Custom-configure your 5500 Orderpicker to accommodate operator skill levels and other variables.
Efficient Energy Usage

Our AC Orderpicker trucks use fewer amps per cycle, so you'll save on batteries, chargers and downtime. And superior energy efficiency means batteries last longer.

Optimal Speed Control

The optional intellispeed ™ system smoothly coordinates travel speeds and load height. This Raymond-exclusive feature maximizes truck speed as the platform rises, capitalizing on an area of opportunity for providing faster travel between picks compared to conventional speed control.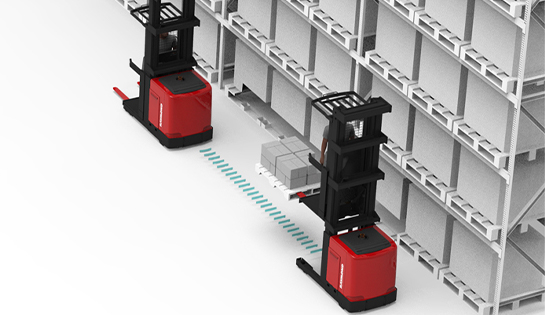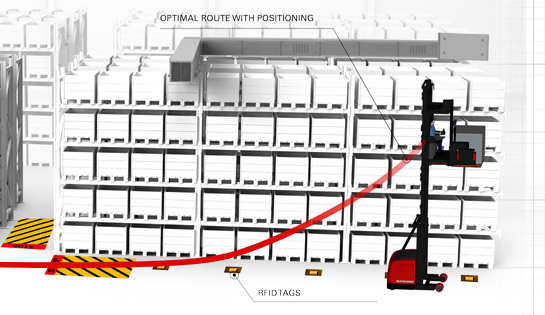 Zoning and Positioning

Zoning and Positioning (ZaP) options ensure more reliable, repeatable truck operation by automatically controlling truck functions, allowing operators to focus on their surroundings and the task at hand.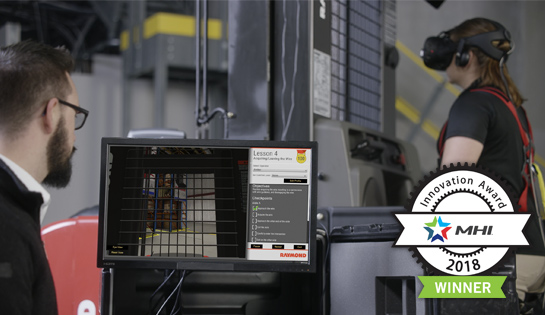 Virtual Reality Simulator

Exclusive teaching tool that puts forklift operators on an actual order picker in the most realistic virtual warehouse to improve skills, confidence, efficiency and retention. Eliminates the need for large dedicated training areas.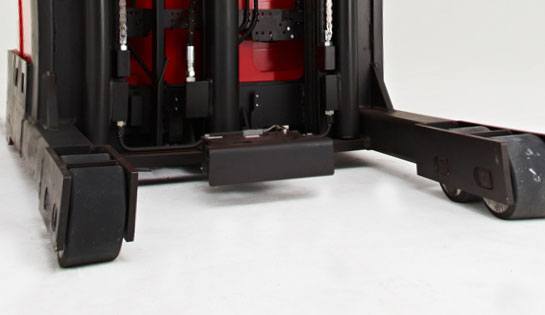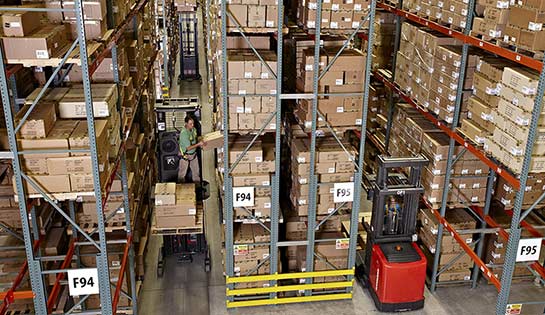 Advanced intellispeed™ System

Smoothly coordinates travel speeds and load height to maximize truck speed as the platform rises, capitalizing on an area of opportunity for providing faster travel between picks.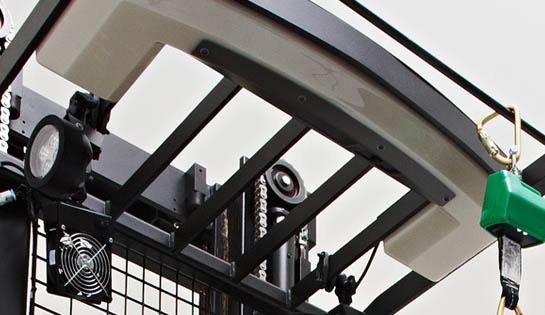 Light & Fan Package

The optional light and fan package offers enhanced lighting on the operator's platform, allowing enhanced visibility when order picking.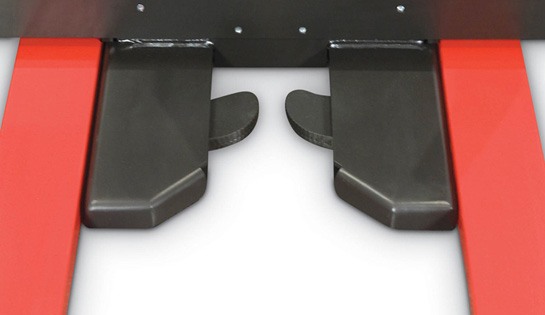 Auto-Locking Pallet Clamp

To improve productivity, our special auto-locking pallet clamp accommodates pallet stringers ranging from 1.25" to 5". So your operations can handle virtually any pallet in the building.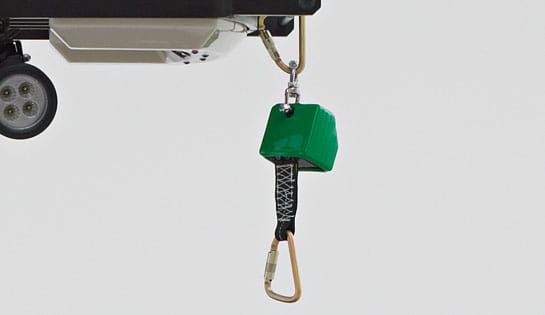 Retractable Tether

The retractable tether automatically limits the amount of slack in the tether for increased operator efficiency.
Product Brochures, Features & Options:
Raymond 5000 Series Orderpicker Trucks

Raymond offers a powerful lineup of Orderpickers in 24 and 36 volts and heights up to 390". Order Pickers featuring our exclusive ACR System™ deliver faster, smoother operation with less downtime and reduced cost of ownership. Raymond orderpickers feature variable lift and lower, simultaneous function control handles and power steering with auto-steer centering to improve load handling to increase productivity.

Raymond's intelliguide Wire Guidance System

Raymond's intelliguide™ is a proven, reliable system for customers who are looking to maintain or improve profitability in their warehouse operations through better management of space, equipment, and people. Raymond's patented intelliguide system provides no-tune wire guidance with excellent tracking and stability for very narrow aisle forklifts.
Refrigerated warehouses, blast freezers, and other cold storage applications require robust control systems. Raymond maintains its own cold storage test facility to replicate the harshest conditions; testing and proving our systems in extreme cycles of freezing and thawing.
Order Picking
Boost throughput and pick rates with reliable, high performance Raymond Orderpickers. We can customize our vast selection of models, including lift heights and performance packages to meet any order picking requirements — from wide aisle to high level Very Narrow Aisle (VNA).
Palletless Handling
Whether you are moving furniture, cartons or other palletless loads, Raymond has the answer. Our 5000 Series Orderpickers are all ideal options to maximize space utilization, decrease damage to inventory and increase productivity with palletless handling.
Very Narrow Aisle
Raymond introduced the first electric narrow aisle straddle truck in 1951, revolutionizing the material handling industry. With over 200 combinations of heights, features and capacities, Raymond trucks for narrow aisle storage offer superior versatility and effective solutions, each improving the utilization of your warehouse space.