Raymond Introduces New Model 7310 4-D Reach-Fork® Truck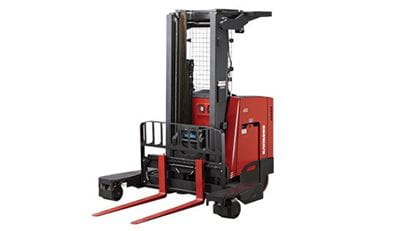 Raymond introduces its new 7310 4-Directional Reach-Fork truck with multi-directional travel capability.
GREENE, N.Y. — The Raymond Corporation introduces the new Model 7310 4-D
®
Reach-Fork truck with four-directional travel capability, allowing increased storage space and aiding operators in handling long, bulky loads with less damage. The Raymond
®
Model 7310 4-D Reach-Fork truck provides the advantages of Raymond's exclusive, proven ACR
®
system — a combination of AC technology and ergonomics that delivers unparalleled performance and reliability. The new Raymond Model 7310 4-D Reach-Fork truck also includes new features to help operators work with maximum efficiency in narrow aisles, storing and retrieving loads with unprecedented precision.
Designed to fit in small spaces, Raymond's new four-directional truck can help reduce aisle widths to create up to 40 percent more storage space. The unique four-directional travel capabilities provide outstanding maneuverability and efficiency, meeting the needs of a typical reach truck user who has to handle loads wider than the common pallet width.
"In 1957, Raymond introduced the first four-directional truck for better handling and storage of wide loads like lumber, linoleum, carpet, drywall and piping, in minimum space," says Susan Comfort, narrow-aisle product manager at Raymond. "This latest update takes this space-saving concept for long-load handling to a new level. With demands on operations constantly building, the efficient use of storage space and increased productivity are crucial. The 4-D truck can help address some of those demands by creating more storage space and improving efficiency."
To learn more about the Raymond Model 7310 4-D Reach-Fork
®
truck or The Raymond Corporation, visit www.raymondcorp.com or call 800-235-7200.
About The Raymond Corporation
The Raymond Corporation is a global provider of unmatched material handling technology, expertise and support to increase productivity and cost-efficiency. Designed with ecological and economical benefits in mind, Raymond® lift trucks are engineered to achieve higher performance and increase efficiency. Raymond offers a full line of manual and electric lift trucks — including pallet trucks, walkie stackers, counterbalanced trucks, reach trucks, orderpickers and turret trucks — and iWAREHOUSE®, complete with iWAREHOUSE Essential™ and iWAREHOUSE Enterprise™, to manage lift truck fleets, labor efficiencies and warehouses. Additionally, flexible automation solutions and industry-leading consultation from Raymond further enhance warehouse processes and streamline material handling practices.
For additional information about The Raymond Corporation or to locate a Raymond Solutions and Support Center, visit the company website at www.raymondcorp.com or call 800-235-7200.
####
iWAREHOUSE®, iWAREHOUSE Enterprise™, iWAREHOUSE Essential™ and Raymond® are U.S. trademarks of The Raymond Corporation.
© 2015 The Raymond Corporation. All rights reserved.
You May Also Like: