Raymond Showcases Integrated Intralogistics Solutions At Promat 2023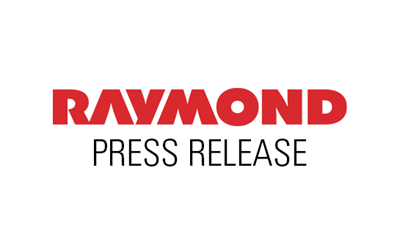 Continuing its history of innovation, Raymond unveils new forklifts and integrated technologies to support complete intralogistics solutions
GREENE, N.Y., March 20, 2023 — The Raymond Corporation continues to showcase its century long history of innovation and will highlight the latest in intralogistics and material handling solutions at ProMat 2023. Attendees of the show, held March 20 to 23 at Chicago's McCormick Place Convention Center, can visit Raymond at Booths S1903 and S1703 to see and learn more about the complete line of Raymond intralogistics solutions.
"For 100 years, Raymond has been designing products to help customers optimize their operations and bring new levels of performance to their warehouses and distribution facilities," said Michael Field, president and CEO at The Raymond Corporation. "We're proud to provide some of the industry's most advanced products and solutions, and we're looking forward to highlighting those products at ProMat 2023."
ProMat 2023 attendees will have the opportunity to learn about a variety of Raymond's material handling equipment, energy solutions, connected technologies and automation products.
New Material Handling Introductions
Raymond has built a reputation based on quality, innovation and service. Its complete line of electric forklifts are built to perform with increased efficiency and productivity:
Telematics and Connected Technologies
Raymond not only designs and builds industry-leading equipment but also offers a broad range of intelligent warehouse technologies, including operator assist technologies. Raymond's iWAREHOUSE® intelligent solutions allow facility managers to gather valuable data and connect directly with their fleet, assets and workforce to enhance productivity, accuracy and reliability:
Integrated Intralogistics Solutions and Automation
Raymond and its network of Solutions and Support Centers provide the technologies, systems and solutions that bring warehouse and distribution operations to exceptional levels of performance. As operations explore automated functions, they frequently must engage multiple vendors to arrive at a complete intralogistics solution. Raymond instead offers a complete integrated system solution — from material handing products to semi-automated and fully automated solutions integrated as a complete system for pallet or product movement with minimal labor:
Education
Raymond offers a variety of training tools designed to help bring new operators up to speed and reinforce training for experienced operators:
Seminars
Experts from Raymond will offer educational seminars open to all attendees of ProMat 2023:
To see and learn more about the complete line of Raymond intralogistics solutions, visit Raymond in Booths S1903 and S1703 at ProMat 2023.
For more information or to locate an authorized Raymond Solutions and Support Center, visit www.raymondcorp.com or call 800-235-7200.
About The Raymond Corporation
The Raymond Corporation, a Toyota Industries Company, is a leading global provider of best-in-class material handling products and intelligent intralogistics solutions. Built on principles of innovation and continuous improvement for 100 years, Raymond's integrated automation, telematics, virtual reality and advanced energy solutions provide ways to optimize operations and bring warehouse and distribution operations to a new level of performance. Raymond® electric forklift trucks are engineered to achieve increased productivity and efficiency and are designed to provide ecological and economic benefits. Raymond delivers solutions to material handling and logistics markets in North America and globally. Combining operational excellence, award-winning innovation and world-class global customer support, we work together to run better, manage smarter and keep our customers always on. For more information, visit raymondcorp.com and follow us on Facebook, Twitter, YouTube and LinkedIn.
####
Energy Essentials Distributed by Raymond®, iWAREHOUSE®, Pick2Pallet™, Raymond®, Raymond Advance™, Raymond Courier™, Reach-Fork®, and Swing-Reach® are U.S. trademarks of The Raymond Corporation.
©2023 The Raymond Corporation. All rights reserved.