Raymond Celebrates Manufacturing Day With More Than 250 Students, Showcases Industry 4.0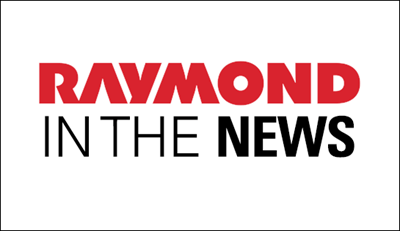 The Raymond Corporation hosted more than 250 students at its headquarters in Greene, New York. Raymond associates inspired students with interactive workshops and career path discussions.
GREENE, N.Y., October 5, 2017 — To celebrate National Manufacturing Day, The Raymond Corporation hosted more than 250 students at its headquarters in Greene, New York, on October 5, 2017. Students in grades 10 to 12, from 20 school districts in the Southern Tier of New York state, experienced the future of manufacturing with exposure to the Industry 4.0 concepts Raymond has implemented.
"Manufacturing today is so much more than a manual labor position. It goes beyond physical labor to another side of manufacturing that is based in the digital supply chain," says Rick Harrington, senior vice president of operations at Raymond. "With the insurgence of Industry 4.0, manufacturing employees are working in a more digital and data-driven environment that includes advanced technologies that will not only change the way something is manufactured but also create a more connected organization."
Raymond's Manufacturing Day event featured a manufacturing floor tour, which gave a firsthand look at how Industry 4.0 is evolving manufacturing and engineering. Students also participated in interactive workshops that detailed 3-D printing, Bluetooth robots and virtual reality. One station showcased the Toyota Production System (TPS), educating students on how to take these principles that Raymond utilizes on the manufacturing floor and apply them to their daily lives.
Students heard from Harrington, along with other Raymond associates, who shared insights into their careers at Raymond and the career paths that got them to the company. From managing a welding robot to working with lithium-ion batteries, roles ranged from engineering to manufacturing — and beyond.
Visit www.raymondcorp.com or call 800-235-7200 to:
Obtain more information on opportunities for high school, technical school or university students.
Learn more about The Raymond Corporation.
Locate an authorized Raymond Solutions and Support Center.
About The Raymond Corporation
The Raymond Corporation is a global provider of end-to-end warehouse solutions, fleet management, forklift training and support to increase efficiency and lower costs throughout material handling operations. Raymond® forklifts are engineered to achieve higher performance, enhance operator comfort and increase efficiency. Raymond manufactures a full line of forklift trucks — including reach trucks, pallet jacks, pallet stackers, sit-down and stand-up forklifts, orderpickers and turret trucks. The iWAREHOUSE® fleet management and warehouse optimization system provides solutions to manage industrial vehicle fleets, labor efficiencies and warehouses. Additionally, flexible automation, customized solutions and industry-leading consultation from Raymond further enhance and streamline processes while helping customers to drive down costs. Raymond is a recipient of the 2015 and 2016 Manufacturing Leadership Award from Frost & Sullivan.
####
iWAREHOUSE® and Raymond® are U.S. trademarks of The Raymond Corporation.
©2017 The Raymond Corporation. All rights reserved.