Raymond Launches PICK2PALLET™ Solution for Improved Customer Productivity, Accuracy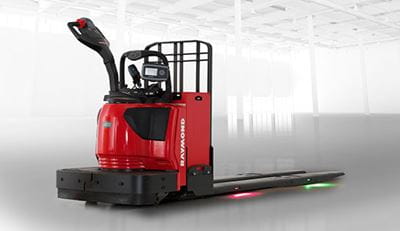 The Raymond Corporation launches the Pick2Pallet™ LED light system designed to help improve customer productivity and reduce picking errors.
GREENE, N.Y. — The Raymond Corporation launches the Pick2Pallet™ LED light system designed to help improve customer productivity and reduce picking errors. With a focus on providing end-to-end warehouse solutions for addressing customer productivity needs, Raymond developed this latest system based on a customer demand for better A-B picking.

"Customers aren't just looking for new technology in products, they are looking for solutions that solve their unique business challenges and application needs. They are looking for a company that understands their needs and can partner with them," said Sue Rice, product manager of pallet trucks at The Raymond Corporation. "At Raymond, we work directly with our customers, seeing and understanding their pain points, allowing us to continuously improve and provide innovations that deliver results."

The patent-pending Pick2Pallet LED light system maximizes operator productivity by directing operators where to place picked product through visual, colored light cues that work in tandem with voice picking solutions.

"We were pleased to partner with Raymond as a field test site for this new concept," said Randy Fletcher, senior vice president of operations at Associated Grocers in Baton Rouge. "And the results were even better than we anticipated with an average of 8 to 10 percent increase in productivity and 35 percent reduction in pick errors on jacks with the Pick2Pallet option versus those without. It's a simple concept with tremendous potential."

"Continuous improvement through innovation is a core philosophy at Alex Lee Inc., our parent company, and is a driving force for our business at Merchants Distributors. This is why Raymond is such a valuable partner, as their culture drives the same philosophy," said Don Garvey, senior vice president of distribution at Merchants Distributors. "When searching for a way to ensure placement accuracy and increase productivity in our A-B picking, which uses voice technology, Greg Kosar, procurement and maintenance systems analyst at Merchants Distributors, and I worked with the Raymond team to make our vision a reality in the form of the Pick2Pallet LED light system. Raymond and their Solutions and Support Center's consultative approach and exceptional service has made them a total solutions partner."

To learn more about the Raymond Pick2Pallet™ LED light system or to learn more about The Raymond Corporation, visit www.raymondcorp.com or call 800-235-7200.

About The Raymond Corporation

The Raymond Corporation is a global provider of end-to-end warehouse solutions, fleet management, forklift training and support to increase efficiency and lower costs throughout material handling operations. Raymond® forklifts are engineered to achieve higher performance, enhance operator comfort and increase efficiency. Raymond manufactures a full line of forklift trucks — including reach trucks, pallet jacks, pallet stackers, sit-down and stand-up forklifts, orderpickers and turret trucks. The iWAREHOUSE® fleet management and warehouse optimization system provides solutions to manage industrial vehicle fleets, labor efficiencies and warehouses. Additionally, flexible automation, customized solutions and industry-leading consultation from Raymond further enhance and streamline processes while helping customers to drive down costs. Raymond is a recipient of the 2015 Manufacturing Leadership Award from Frost & Sullivan.
####

iWAREHOUSE®, Pick2Pallet™ and Raymond® are U.S. trademarks of The Raymond Corporation.

©2016 The Raymond Corporation. All rights reserved.
You May Also Like: