Raymond Debuts End-to-end Solutions at ProMat 2015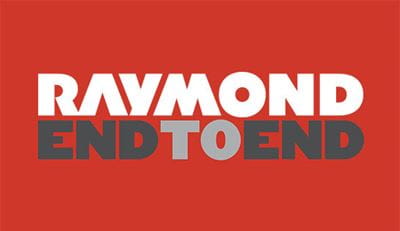 The Raymond Corporation introduced end-to-end warehouse solutions at ProMat 2015, March 23-26 in Chicago, Illinois.
GREENE, N.Y. — The Raymond Corporation will introduce end-to-end warehouse solutions at ProMat 2015, March 23-26 in Chicago, to help customers "run better" and "manage smarter" through greater visibility of facility and material handling functions. Representatives from Raymond will be on hand at the event to discuss these product innovations.
"Our focus is always the customer,"says Tim Combs, president of sales and marketing at Raymond. "Raymond's latest innovations address common challenges, such as maximizing facility space, increasing storage capacity, reducing order fulfillment errors, improving operational efficiencies and refining analyses of maintenance and repair costs. Our objective is to help our customers face these challenges head on with impactful solutions that push the envelope on productivity, efficiency and ROI."
New products, services and solutions include:
Raymond PICK2PALLET™ LED Light system — This light-display system is designed to help eliminate or reduce picking errors by using LED technology to visually reinforce product placement for order fulfillment in batch picking applications. It maximizes operator productivity by directing operators where to place product — enabling them to quickly move to the next pick with confidence. When used in tandem with the Raymond® double-fork pallet feature, it can increase product throughput.
Raymond Model 9800 Swing-Reach® truck — This Swing-Reach truck is engineered to triple pallet capacity in existing square footage by reaching heights of 40 to 50 feet in very narrow aisle storage facilities. Its advanced lift system with regenerative lowering reduces energy use by 40 percent per lift cycle, and a unique articulated steering system increases maneuverability and frees up space for additional storage locations.
RadioShuttle – Brought to you by Raymond Solutions and Support Centers — This innovative load-carrier system is designed to maximize warehouse volume by offering ultrahigh-density storage with individual storage rack access. Through remote control units, the system reduces damage to goods and the rack itself by moving pallets through storage tunnels prior to being picked.
Updates to existing products, services and solutions include:
iWAREHOUSE GATEWAY™ — iWAREHOUSE GATEWAY — the iWAREHOUSE® reporting user interface — has been updated to combine telematics data for vehicles and operators with service and maintenance cost data into a single automated report. Enhanced, dynamic data filtering increases asset and operator visibility through integrated charts, graphs and lists.
iTRACK® — The service and maintenance monitoring module in iWAREHOUSE, iTRACK® features a new capability to organize data from multiple providers in one data report, invoice or work order to help determine avoidable maintenance and service costs. The advancements show which trucks are underutilized or overutilized, bringing added visibility to lift truck costs.
iBATTERY™ — The Raymond battery management system, iBATTERY™ — which tracks critical lifetime factors, such as watering, equalization and temperature — features enhanced reporting tools for monitoring battery events in the context of operator and state of charge. The system includes the only battery monitoring device that can provide accurate state of charge to the forklift during operation in opportunity charging applications.
To see Raymond's end-to-end solutions in action, visit Booth 3219 at ProMat 2015 at McCormick Place South. To coordinate a follow-up interview regarding these products and solutions, please contact Megan Price at [email protected].
About The Raymond Corporation
The Raymond Corporation is a global provider of end-to-end warehouse solutions, fleet management, forklift training and support to increase efficiency and lower costs throughout material handling operations. Raymond® forklifts are engineered to achieve higher performance, enhance operator comfort and increase efficiency. Raymond manufactures a full line of forklift trucks — including reach trucks, pallet jacks, pallet stackers, sit-down and stand-up forklifts, orderpickers and turret trucks. The iWAREHOUSE® fleet management and warehouse optimization system provides solutions to manage industrial vehicle fleets, labor efficiencies and warehouses. Additionally, flexible automation, customized solutions and industry-leading consultation from Raymond further enhance and streamline processes while helping customers to drive down costs.
####
iWAREHOUSE® and Raymond® are U.S. trademarks of The Raymond Corporation.
©2015 The Raymond Corporation. All rights reserved.
You May Also Like: