Raymond Unveils New Expansion, Hosts National Manufacturing Day Event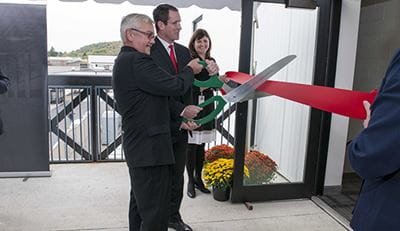 Raymond unveiled a new expansion at its Greene, New York headquarters, giving Southern Tier of New York students education and hands-on experience as part of the event.
GREENE, N.Y. — The Raymond Corporation hosted a National Manufacturing Day event at its headquarters in Greene, New York, unveiling a 47,000-square-foot addition to its facility and the reconfiguration of manufacturing space.
The creation of the Raymond Operations Center accounted for 32,000 square feet of the addition. In this space, Raymond was able to add a second level for office space for operations and support, multiple collaborative team rooms and an employee fitness center. This allowed for the reconfiguration of 60,000 square feet on the manufacturing floor and optimization of the first floor support operations for improved efficiency and production capacity.
An additional 15,000-square-foot expansion has been added to the west side of the building for new 60-foot test bay capabilities, office space, team rooms and break rooms. Raymond also implemented a number of upgrades to its manufacturing technology, installing advanced automatic welding and laser-cutting technology, upgrading warehouse management software, and integrating the corporate logistics plan with just-in-time delivery of equipment and materials.
"Raymond's growing workforce and our evolving needs as a leader in our industry were driving forces to expand our footprint and implement a number of state-of-the-art technologies on the manufacturing floor," says Michael Field, CEO for The Raymond Corporation. "To meet the ever-changing needs of our customers, Raymond must continually advance to bring forward the most productive and efficient products and solutions."
Raymond's main manufacturing facility is located in Greene, along with its central offices which include operations, engineering, marketing, finance and various other departments. Many of Raymond's flagship products are built at the Greene location, including narrow aisle Reach-Fork® trucks, very narrow aisle Raymond Swing-Reach® transtacker and sideloader trucks, and Raymond's sit-down and stand-up counterbalanced trucks.
In addition to the unveiling of the expansion, Raymond's support of STEM (Science, Technology, Engineering, Math) careers inspired a National Manufacturing Day event for more than 200 Southern Tier of New York high school students, demonstrating how STEM careers can be exciting, challenging and rewarding.
"Students were given a guided tour of our award-winning operations and witnessed first-hand what careers in science, technology, engineering and math are all about from myself and Steve Medwin, director of systems and advanced engineering," says Rick Harrington, vice president of U.S. manufacturing at Raymond. "If we can inspire one more student to see a future in a STEM career, then we have been successful."
Students who visited Raymond also learned about SkillsUSA from Bruce Potter, director for New York State SkillsUSA, and Ellen Coughlin, state leadership and skills conference coordinator for New York State SkillsUSA. SkillsUSA is an organization made up of students, teachers and industry working together to help create a skilled workforce for Americans through a structured program of technical and professional skills training.
For more information or to locate an authorized Raymond Solutions and Support Center, visit www.raymondcorp.com or call 800-235-7200.
About SkillsUSA
SkillsUSA is a national partnership of students, teachers and industry, working together to ensure America has a skilled workforce. SkillsUSA chapters help students who are preparing for careers in technical, skilled and service occupations excel. SkillsUSA has more than 300,000 students and instructors as members.
About The Raymond Corporation
The Raymond Corporation is a global provider of unmatched material handling technology, expertise and support to increase productivity and cost-efficiency. Designed with ecological and economical benefits in mind, Raymond® lift trucks are engineered to achieve higher performance and increase efficiency. Raymond offers a full line of manual and electric lift trucks — including pallet trucks, walkie stackers, counterbalanced trucks, reach trucks, orderpickers and turret trucks — and iWAREHOUSE®, complete with iWAREHOUSE Essential™ and iWAREHOUSE Enterprise™, to manage lift truck fleets, labor efficiencies and warehouses. Additionally, flexible automation solutions and industry-leading consultation from Raymond further enhance warehouse processes and streamline material handling practices.
For additional information about The Raymond Corporation or to locate a Raymond Solutions and Support Center, visit the company website at www.raymondcorp.com or call 800-235-7200.
####
iWAREHOUSE®, iWAREHOUSE Enterprise™, iWAREHOUSE Essential™ and Raymond® are U.S. trademarks of The Raymond Corporation.
© 2015 The Raymond Corporation. All rights reserved.
You May Also Like: