Whitepaper: Data-Proven Results Reveal Increased Truck Efficiency and Productivity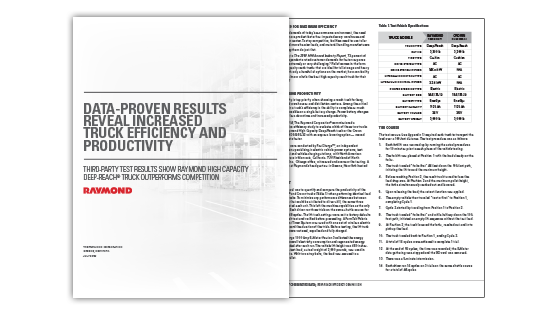 With the demands of today's e-commerce environment, the need to move more product faster has impacted every warehouse and distribution center. To stay competitive, facilities need to use taller pallets and move heavier loads, and material handling manufacturers are helping them do just that.


Deep-Reach Efficiency Comparison
The Need For Maximum Efficiency
Comparing Productivity
The Test
The Course
How The Results Benefit Customers
Conclusion
These trucks are helping revolutionize today's supply chain and keeping warehouses running better and managing smarter. In a world that wants things now, these trucks will continue to be instrumental in shaping the way plant facilities operate and stay competitive. Contact us today to learn more about our High Capacity Deep-Reach Truck.
High Capacity Deep-Reach Truck Whitepaper
Submit your information below.