Continuous Improvement With Lean Management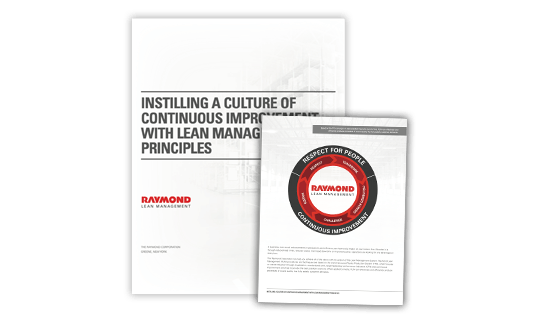 When applied correctly, RLM can effectively and efficiently produce processes of sound quality that fully satisfy customer demands.


How Raymond Stays Ahead of the Competition
Empower Your Workforce to Identify and Solve for Waste
Visualize Improvements
Embracing Standardized Processes with 5S Methodology
Instilling a Culture of Continuous Improvement
The Raymond Advantage
Raymond's Experience with Lean
Success Stories
CHARTING A PATH FORWARD
Raymond has the expertise and knowledge to help you identify the current areas of waste in your operation and educate your workforce. Contact us today for a free consultation that will help you better understand your current operations and how it can be enhanced to achieve greater operational efficiencies and keep your operation competitive and profitable.
Lean Management Whitepaper
Submit your information below.