Maximizing Profits with Raymond Energy Leasing: A Path to Energy Efficiency and Cost Savings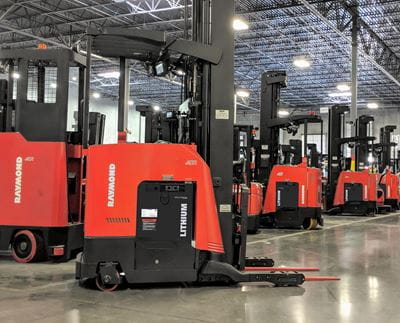 Today's electric forklifts offer performance that meets the needs of the most common lift truck applications but with dramatically reduced maintenance requirements and with data collection capabilities that are quickly becoming essential to facility and resource optimization.
Electrically powered material handling equipment isn't a new idea. The first electric lift trucks debuted in the 1920s, and the technology has been in use to some degree since then. But what may be new is the complete package of environmental, workplace and operational well-being advantages electric forklifts offer today and the ability to try electric forklifts through Raymond's convenient leasing model.
Today's electric forklifts offer performance that meets the needs of the most common lift truck applications but with dramatically reduced maintenance requirements and with data collection capabilities that are quickly becoming essential to facility and resource optimization. Although the total cost of ownership of electric products is typically lower than internal combustion products, the higher upfront initial purchase cost of switching to electric-powered equipment may have been a barrier in the past. Currently available governmental incentives and supplier programs, like leasing, make the advantages of battery power, specifically the traditionally more expensive lithium-ion power, even easier to justify.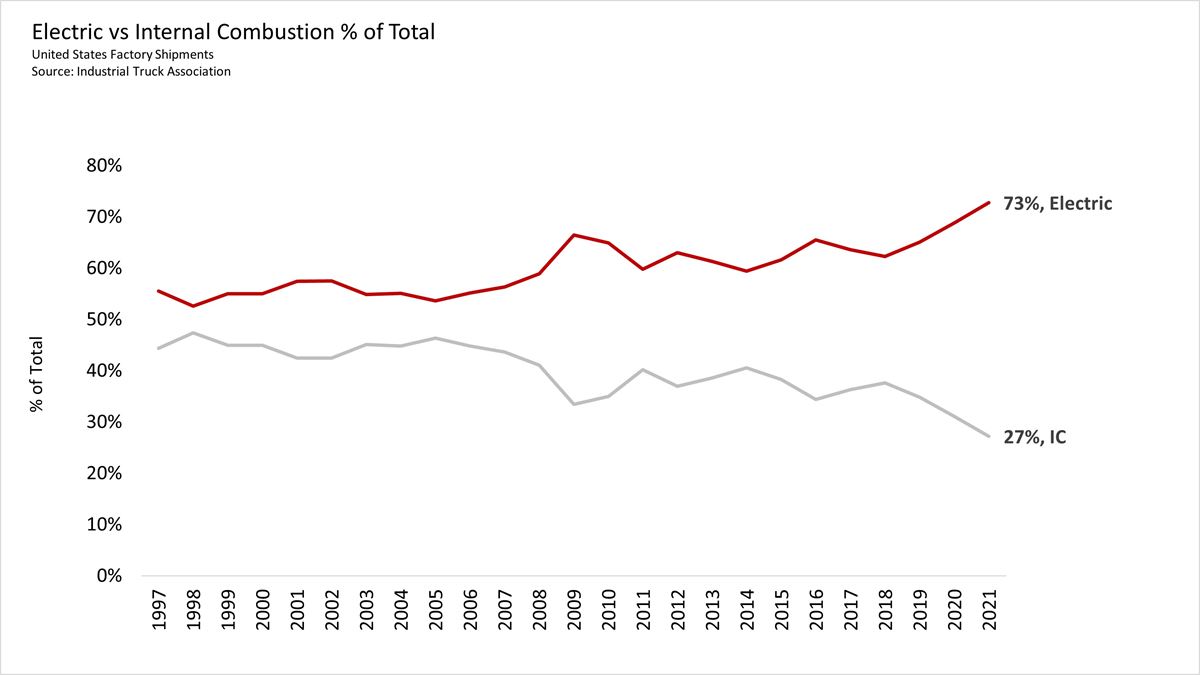 Real-world Performance and Real-time Data
Any chart of the adoption curve for battery power in material handling applications shows a clear trend: The use of battery-powered equipment is on the rise, and for good reasons. Depending on the application, battery power can offer performance comparable to that of traditionally powered equipment but with an increased degree of reliability and resiliency. Electric equipment won't add excessive heat to cold-storage environments and is more comfortable for operators and other facility workers due to lower noise and fewer vibrations. Just as significant: Through advanced telematics, battery performance data can be tracked and analyzed, helping support a robust and actionable set of machine and workforce data.

Telematics enables productivity and efficiency reports that can be used to analyze an entire operation, revealing inefficiencies, identifying repetitive low-value tasks that could be better suited to automation and allowing you to redeploy that labor to more value-added tasks. In addition, applications such as Raymond's iWAREHOUSE® Fleet Management and Warehouse Optimization System enable visibility into labor trends and equipment utilization, give you critical information on processes and workflow and, ultimately, provide a clearer picture of your cost of doing business.
A Sustainable Energy Source
A battery-powered material handling fleet also carries significant sustainability and environmental stewardship benefits. Moreover, interior noise levels can be significantly lower, creating a better, more comfortable environment for workers. For warehouse, distribution and e-commerce operations keen to improve their sustainability scores, fleet electrification makes for a reasonable and achievable step that can pay off in areas beyond sustainability.
Short- and Long-term Cost Savings
While electrification can play an important role in helping facilities meet sustainability goals, battery power can help reduce overall operating costs. First, various electrification incentives are available through the Inflation Reduction Act of 2022 and other federal and state programs. Raymond can help you evaluate the various incentives and determine how and to what degree they can help offset acquisition costs and build additional value into your electrification program.
Second, remember that electrification enables the acquisition of detailed, real-time data on machine, labor and facility performance — data that has value and that can be used to improve operational efficiency and further reduce operating costs. With no engine oil changes, filter changes and no coolant to flush, the lower maintenance costs of a battery-powered fleet can't be ignored.
Minimize Upfront Costs With Raymond Energy Leasing
Suppose you've decided to electrify your material handling fleet: Congratulations. You're well on your way to significant efficiency in energy, labor, cost and operations. But there will be more decisions to make, including the type of battery power you use, whether that's traditional lead acid, lithium-ion or thin plate pure lead. You'll need to think about charging systems, charger locations and energy storage solutions — and even though you may just be starting your electrification journey, you'll want to consider an upgrade path that allows you to take advantage of emerging technologies.

Fortunately, Raymond Energy Leasing can offer you options and help you avoid getting locked into a single solution. Financing your lift truck batteries and power systems through Raymond Energy Leasing provides the same benefits as financing the lift trucks: lower upfront expenditures; flexible terms that allow you to try different batteries and systems; access to the latest technologies; convenient battery recycling and disposal; fast reaction to changing power demands; ongoing support; and reduced operational risks. Raymond and your Raymond Solutions and Support Center can help you acquire, manage and maintain the energy solutions you need — independent of the lift truck chassis — and help you optimize for performance, uptime and cost savings.
SWITCH FROM IC TO ELECTRIC
Currently representing nearly 65% of the market, electric forklifts continue to gain in popularity, replacing propane-powered trucks in a broad range of applications for a variety of reasons. With carbon emission reduction, operations are discovering that electricity offers a better way to power their trucks and empower their business.