Warehouse Automation: Developing the Automated Guided Vehicles (AGV) Implementation Road Map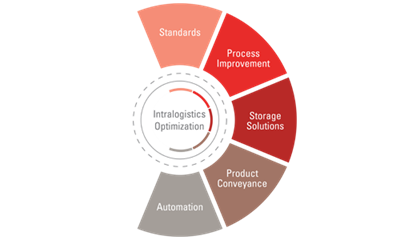 The benefits of automation include helping mitigate the threat posed by a lack of available labor, increasing overall productivity and reducing warehouse labor cost.
In the face of rising costs and a shrinking labor pool, facility managers are looking to automation as an effective, long-term solution — and rightly so. The benefits of automation include helping mitigate the threat posed by a lack of available labor, increasing overall productivity and reducing warehouse labor cost.
But successful automation takes more than simply deploying automated guided vehicles (AGVs); measurement, evaluation and optimization of the current processes and facilities are critical for identifying the functions and processes most suited to automation.
That's why automation is best considered as a journey, with a schedule, milestones and accurate operational data guiding the way. The first step? Getting a good idea of where you are now.
LEAN MANAGEMENT: OPTIMIZING WAREHOUSE SYSTEMS
Successful automation efforts most often begin with visualizing and optimizing current processes and facilities, using the proven techniques of lean manufacturing and lean management.
Lean management is based on the idea that continuous incremental improvements in efficiency can make a major impact on overall productivity and profitability. Lean management methods can help you maximize efficiency by identifying and eliminating waste and inefficiency, reducing lead times, minimizing downtime, and improving quality.
A lean management effort starts with visualization — that is, by examining existing processes and facilities with an eye toward gathering as much information as possible about the operation, the workforce and the workflow.
Next comes the process of identifying and eliminating waste in the operation. Companies bring employees into the effort at this stage by training and empowering them to: identify inefficiencies; pinpoint the value-added and non-value-added steps of the process; and suggest and implement improvements of the tasks they perform daily.
Once you've identified value-added and non-value-added steps, you can begin to develop key performance targets and deploy standardized work processes, reducing waste while improving safety, efficiency and throughput. You also can start to identify the repetitive movements that may be best suited for automation.
TELEMATICS: ACQUIRING AND USING ACTIONABLE DATA
Accurate, usable data is a critical component of your automation journey. Having solid data allows you to analyze trends, increasing performance and avoiding or reducing the impact of stoppages. And the best way to acquire data? Telematics.
Current warehouse management systems and telematics solutions not only prepare a facility for automation and connected operation but also provide real-time actionable analysis of fleet maintenance and utilization, asset location and movements, personnel movements and time, and inventory processes and flow, giving you the data you'll need to help your facility become more productive and efficient.
EVALUATING APPLICATION FOR WAREHOUSE AUTOMATION IMPLEMENTATION
As you move toward full automation, having answers to key questions will help inform and guide the decisions you'll make with your chosen automation partner. Questions you'll need to consider include:
Environment
Where are the AGV pathways and what are the dimensions?

What and where are the obstacles?

Where are the personnel-only areas?

What are the material handling routes and distances and peak demand requirements the AGVs will need to cover?

Where will the AGVs charge and/or park during idle?

What are the temperature, light and humidity conditions in the facility?

What is the condition of the floor — concrete, wood?
Load
What is the weight range, and what is the maximum potential weight?

What are the load dimensions?

What are the different pallet types or load carriers?

What is the maximum lift height?

How will the AGV engage with the pallet?

Where are the pickup and drop locations?
Workflow, Process and Integration
Where are the routes' start and end points?

When are the periods of peak and low demand?

How will the automation system fit within the larger warehouse or warehouse management system?

How many working shifts are involved, and how many workers are on each shift?
WAREHOUSE AUTOMATED GUIDED VEHICLES: AGV PILOT TO FLEET
A pilot AGV program will typically involve automating an ancillary, non-mission-critical operation that matches the general application criteria — area, distances, load dimensions. Once the pilot AGV program has been deployed and has run for a period of time, results may be shared with facility management, HR and health and safety departments. As change management is a critical component of automation, AGV program stakeholders should be prepared to address questions and concerns from the larger workforce.
From a successful pilot program, the next step is replacing a larger lift truck fleet currently supporting the main warehouse operation. A system featuring AGVs to perform repetitive transport and handling tasks can help return efficiency, productivity and profitability to your operation and can give you the flexibility to reallocate labor to more value-added functions.
AGV WAREHOUSE AUTOMATION SUCCESS FACTORS
As with any other journey, designing and deploying a facility-automation solution can involve detours, challenging conditions and the occasional roadblock; a commitment to critical success factors will help keep your efforts on schedule and on budget.
Be clear about your goals.

Having clear, measurable goals will help guide every automation decision.

Gather accurate data.

Knowing how your equipment and personnel are performing is key to establishing performance metrics.

Decide how the system will integrate.

Consider how automation will fit as part of a larger workflow management system.

Manage the change.

Have the training and personnel in place to support the change to a fully automated facility.

Partner with the right supplier.

Engaging the right supplier is critical to the success of your automation efforts.
At The Raymond Corporation, we do more than sell you a fleet of equipment. We help you evaluate automation as a part of your entire operation and then build a system based on your specific facilities and functions. As a result, you and your operation will be better prepared to overcome the challenges of rising costs, increasing customer demands and difficult labor markets.
Speak to an Automation Specialist