University Research Program Now Accepting Research Proposals to Support Advancement in Material Handling Technology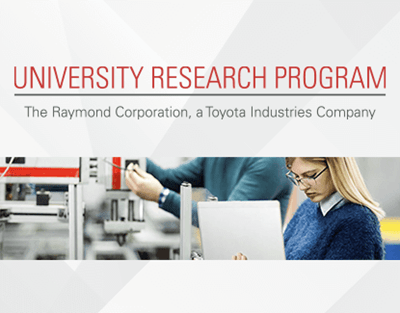 Raymond continues to sponsor university research to advance the future of material handling.
GREENE, N.Y., July 13, 2023 — The Raymond Corporation's University Research Program will now review applications twice per year — in the fall and winter semesters. The program announced the current request for proposals in June 2023, with a corresponding deadline of October 2023. The Raymond Corporation, a member of the Toyota Industries family of companies, continues to sponsor the University Research Program, which was created to encourage and support professors and student researchers to apply their engineering and technical research to discover innovative solutions for the material handling industry. Given the broad nature and rapid advancement of material handling, the theme for the 2023-24 research proposals is "Research to Enable the Future of Material Handling."
The sponsored research program is in its sixth cycle of accepting applications for grant funding that can total up to $500,000 annually. Selected proposals may receive financial support of up to $250,000 for 12-24 months of research. The University Research Program will evaluate research proposals from North American universities based on several criteria, including timeline, budget feasibility and the possible impact on the material handling industry's future.
"The changing economic landscape and the continued growth of e-commerce has fueled the rapid advancement of the material handling industry. Collaborating with academia's best and brightest will fuel the exploration of new technology and innovative approaches, which will inspire the supply chain of the future," said Michael Field, president and CEO, The Raymond Corporation. "Raymond's commitment to research and education and our investment in the University Research Program allow us to support the next generation of material handling innovators who will move our future forward."
Proposals that received University Research Program funding from previous years covered topics such as automation, virtual reality, augmented reality, energy infrastructure, Internet of Things and Industry 4.0.
For more information on the University Research Program, visit www.universityresearchprogram.com or email Steve Medwin, the university ambassador, at [email protected].
About The Raymond Corporation
The Raymond Corporation, a Toyota Industries Company, is a leading global provider of best-in-class material handling products and intelligent intralogistics solutions. Built on principles of innovation and continuous improvement for 100 years, Raymond's integrated automation, telematics, virtual reality and advanced energy solutions provide ways to optimize operations and bring warehouse and distribution operations to a new level of performance. Raymond® electric forklift trucks are engineered to achieve increased productivity and efficiency and are designed to provide ecological and economic benefits. Raymond delivers solutions to material handling and logistics markets in North America and globally. Combining operational excellence, award-winning innovation and world-class global customer support, we work together to run better, manage smarter and keep our customers always on. For more information, visit raymondcorp.com and follow us on Facebook, Twitter, YouTube and LinkedIn.
####
Raymond® is a U.S. trademark of The Raymond Corporation.
©2023 The Raymond Corporation. All rights reserved.