Raymond Introduces Outdoor Electric Lift Trucks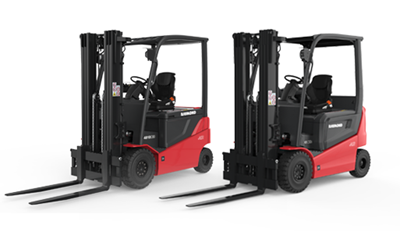 New models offer emissions-free electric performance and outdoor capability
GREENE, N.Y., May 22, 2023
— The Raymond Corporation, a global leader in intralogistics solutions and a recognized innovator in material handling equipment, introduces two products designed to provide exceptional performance while addressing the need for sustainable material handling solutions: the 4800 and 4810 80-volt sit-down counterbalanced trucks. The new pneumatic series provides all the needed capacities between 4,000 and 11,000 pounds.
"Both of these machines are designed specifically for outdoor applications," said Tim Rice, product manager, The Raymond Corporation. 'This makes them perfect for lumberyards, big-box stores and building material suppliers, as well as for container yards, agricultural or commodity applications — any customer who's interested in an emissions-free, low-maintenance all-electric lift truck but is unwilling to compromise on performance, indoor/outdoor capability and ease of operation."
The 4800 and 4810 models both feature the confidence-inspiring Raymond Performance Stability System™, which offers a high level of vehicle control for reduced damage to goods and facilities. Both models give users an ergonomically designed operator station featuring a full-suspension and fully adjustable seat with an attached armrest and fingertip hydraulic controls with factory sideshift. For optimum comfort in any environment, a variety of enclosed or partially enclosed cabin options are available. Well-placed controls — include a power select function that allows operators to optimize power output based on the specific application. To support various applications, customization is available to make the most of the machine, including forklift attachments. Out front, the open view mast allows for exceptional visibility, increasing operator comfort and confidence.
In addition to offering unmatched emissions-free performance, the 4800 and 4810 models help owners control operating costs and maximize uptime through features such as low-maintenance wet disc brakes and powerful rechargeable batteries that require no spark plugs, no tuneups and no scheduled oil changes. The energy regeneration system, standard on both models, increases run-time by putting energy back into the battery during plugging, coasting and braking.
"In almost every industry we serve, there's a growing interest in more sustainable operations," Rice said. "We're seeing an increasing number of users making the switch from conventionally powered lift trucks to electric trucks. For any lift truck user interested in converting to an all-electric fleet, the 4800 and 4810 models make perfect sense. These are fully capable indoor/outdoor machines, which have the features to not only help meet sustainability goals but also help optimize overall performance through integration with iWAREHOUSE and other Raymond telematics solutions."
For more information or to locate an authorized Raymond Solutions and Support Center, visit www.raymondcorp.com or call
800-235-7200
.
About The Raymond Corporation
The Raymond Corporation, a Toyota Industries Company, is a leading global provider of best-in-class material handling products and intelligent intralogistics solutions. Built on principles of innovation and continuous improvement for over 100 years, Raymond's integrated automation, telematics, virtual reality and advanced energy solutions provide ways to optimize operations and bring warehouse and distribution operations to a new level of performance. Raymond® electric forklift trucks are engineered to achieve increased productivity and efficiency and are designed to provide ecological and economic benefits. Raymond delivers solutions to material handling and logistics markets in North America and globally. Combining operational excellence, award-winning innovation and world-class global customer support, we work together to run better, manage smarter and keep our customers always on. For more information, visit raymondcorp.com and follow us on
Facebook
, Twitter,
YouTube
and
LinkedIn
.
####

iWAREHOUSE® and Raymond® are U.S. trademarks of The Raymond Corporation.
©2023 The Raymond Corporation. All rights reserved.