Raymond And Its Solutions And Support Centers Continue Pledge To Giving Back, Supporting Local Communities Throughout North America In 2023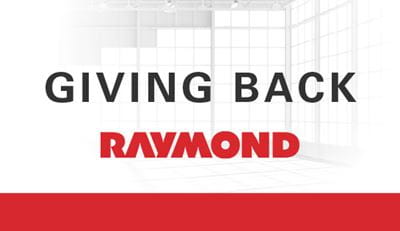 From monumental charitable donations to building bicycles for children in need for a brighter holiday season, Raymond's network continues to support communities.
GREENE, N.Y., November 16, 2023 — The season of giving is yearlong at The Raymond Corporation. In 2023, Raymond has supported more than 100 nonprofit and educational organizations in communities throughout New York state, home to its headquarters. The giving extends across North America as the organization and its network of Solutions and Support Centers help numerous charitable efforts and communities. With an altruistic culture spanning over 100 years, Raymond continues to prioritize fundamental company values focused on respect for people and innovation, driving the company and its associates forward to make a positive impact on their local communities.
"Raymond and our entire enterprise of Solutions and Support Centers have always been committed to a pledge of giving back and making a difference in the communities in which we operate and serve," said Steve VanNostrand, executive vice president at The Raymond Corporation. "Generosity has long been exemplified throughout our operations, and it runs deep in the hearts of our team members. We appreciate our associates, who are absolutely key in helping bring these efforts to fruition."
Raymond and its Solutions and Support Centers contribute to nonprofit and educational organizations with monetary contributions, forklift donations and voluntary participation spanning from building bicycles to building out warehouse centers for food pantries. Here are some model examples of how Raymond's Solutions and Support Centers have given back to communities across North America in 2023:
As total intralogistics solutions providers, Raymond Solutions and Support Centers offer a broad range of consulting, connected solutions, technologies, services, material handling equipment and more to support the ever-growing needs of their customers.
To see more examples of how Raymond Solutions and Support Centers are giving back in 2023, visit Raymond's Facebook or LinkedIn pages at www.facebook.com/TheRaymondCorporation or https://www.linkedin.com/company/the-raymond-corporation/.
For more information or to locate an authorized Raymond Solutions and Support Center, visit www.raymondcorp.com or call 800-235-7200.
About The Raymond Corporation
The Raymond Corporation, a member of the Toyota Industries family of companies, is a leading global provider of best-in-class material handling products and intelligent intralogistics solutions. Built on principles of innovation and continuous improvement for 100 years, Raymond's integrated automation, telematics, virtual reality and advanced energy solutions provide ways to optimize operations and bring warehouse and distribution operations to a new level of performance. Raymond®electric forklift trucks are engineered to achieve increased productivity and efficiency and are designed to provide ecological and economic benefits. Raymond delivers solutions to material handling and logistics markets in North America and globally. Combining operational excellence, award-winning innovation and world-class global customer support, we work together to run better, manage smarter and keep our customers always on. For more information, visit raymondcorp.com and follow us on Facebook, Twitter, YouTube and LinkedIn.
####
Raymond® and Safety On The Move® are U.S. trademarks of The Raymond Corporation. Toys for Tots® is a registered trademark of the Marine Toys for Tots Foundation.
©2023 The Raymond Corporation. All rights reserved.