Raymond Celebrates Forklift Operators For National Forklift Safety Day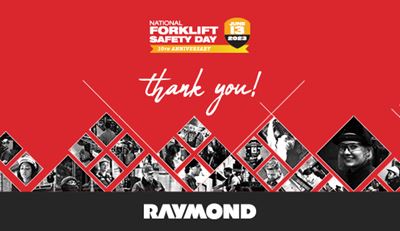 Intralogistics solutions provider demonstrates commitment to supply chain workers through innovative, operator-first product and technology design.
GREENE, N.Y., June 12, 2023 — As National Forklift Safety Day (NFSD) approaches, The Raymond Corporation — designer and manufacturer of some of the industry's most intelligent intralogistics solutions and advanced material handling products — extends its thanks to and celebrates the thousands of forklift operators who work at every point along the global supply chain.
"For more than 100 years, we've developed innovative tools and technologies that help move materials efficiently," said Michael Field, president and CEO, The Raymond Corporation. "But at the heart of it all are the forklift operators themselves. That's why we're recognizing and thanking all the forklift operators who keep things moving. And it's why we're committed to offering solutions that help operators work more confidently and efficiently."
Among the worker-focused innovations Field cites are:
Engaging Learning Programs. When operators understand and implement best practices to operate forklifts, they feel more confident and productive in the important work they do. Safety On The Move, Raymond's industry-leading forklift operator training program, has helped employers protect their people, equipment and materials since its introduction. Additionally, Raymond's Virtual Reality Simulator is a flexible, scalable teaching tool that uses the latest immersive technology to quickly increase new operator proficiency and continually expand operator skills for reduced turnover.
Operator Assist and Automation Technologies. Operator assist technologies like Raymond's Pick2Pallet give operators the tools to help them perform their jobs more efficiently and accurately. As an added benefit, these products and systems help reduce errors and bring new operators up to speed faster. At the same time, Raymond automation technologies can help by performing basic, repeatable tasks, freeing operators to focus on more value-added jobs.
Comfort and Convenience Features. Even the smallest features can make a huge difference in an operator's comfort. So whenever possible, Raymond designs features like padded lean points, vibration-dampening floor mats, accessory bars and USB charging ports — to help make long days more comfortable.
Worker-focused Process Optimization. Nobody knows a process better than the people who do the work every day; that's why Raymond Lean Management (RLM) is focused on empowering employees to spot inefficiencies and make improvements to the processes they follow and on improving morale and engagement through continuous collaboration between employees and management.


"We believe it's important to highlight the material handling, warehousing and distribution industry's appreciation for its workers and operators," Field said. "It's that appreciation that shows up in equipment and product design, our work processes, and our dedication to continuous improvement."
For more information or to locate an authorized Raymond Solutions and Support Center, visit www.raymondcorp.com or call 800-235-7200.
About The Raymond Corporation
The Raymond Corporation, a Toyota Industries Company, is a leading global provider of best-in-class material handling products and intelligent intralogistics solutions. Built on principles of innovation and continuous improvement for over 100 years, Raymond's integrated automation, telematics, virtual reality and advanced energy solutions provide ways to optimize operations and bring warehouse and distribution operations to a new level of performance. Raymond® electric forklift trucks are engineered to achieve increased productivity and efficiency and are designed to provide ecological and economic benefits. Raymond delivers solutions to material handling and logistics markets in North America and globally. Combining operational excellence, award-winning innovation and world-class global customer support, we work together to run better, manage smarter and keep our customers always on. For more information, visit raymondcorp.com and follow us on Facebook, Twitter, YouTube and LinkedIn.
####
Pick2Pallet™, Raymond®, and Safety On The Move® are U.S. trademarks of The Raymond Corporation.
©2023 The Raymond Corporation. All rights reserved.