Raymond Once Again Named As Finalist For International Forklift of the Year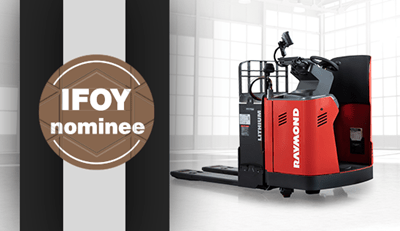 Raymond® 8910 enclosed end rider pallet truck to be tested this March at International Intralogistics and Forklift of the Year (IFOY) Test Days in Dortmund, Germany.
GREENE, N.Y., February 22, 2023
— The Raymond Corporation's
8910 end rider pallet truck
has been named a finalist for an
International Intralogistics and Forklift Truck of the Year (IFOY) Award
, which recognizes the industry's best intralogistics products and system solutions from around the world. Adaptability, operator comfort and sustainability features make the 8910 pallet truck perfect for a range of tasks, especially long hauls.
With intuitive, easy-to-use controls and a roomy operator compartment with enhanced ergonomics, the 8910 pallet truck is ideal for heavy-duty, high-throughput and long-haul applications. The pallet truck features ergonomically enhanced steering and a deadman pedal requiring less effort to operate, along with auto-slowdown, automatic drive-tire centering on startup and other operator-friendly features. Equipped with power steering, the Raymond® 8910 pallet truck is a quiet and energy-efficient lift truck.
Full integration with the
iWAREHOUSE® Fleet and Warehouse Optimization System
gives operators access to the complete portfolio of Raymond telematics, allowing easy access to critical equipment and labor performance data.
"The 8910 is a highly versatile product that combines operator comfort with technology integration," said Chad Kritzman, Product Manager at The Raymond Corporation. "Operators will appreciate features like auto-slowdown and the tighter turning radius, while fleet and facility managers will have access to data that can help optimize workforce, machine and facility performance."
In addition to offering a host of operator-comfort and performance features, the 8910 can be equipped for specific facilities and applications — including horizontal transport, loading and unloading, cold storage and dock work — and is available with various fork lengths and load capacities.
"We're proud to be honored once again as a finalist for the IFOY Award," said Michael Field, President and CEO, The Raymond Corporation. "The 8910 is the product of Raymond's 100-year
history of innovation and our commitment to designing equipment that helps customers optimize their distribution and warehousing operations and that enables an unmatched level of productivity."
The IFOY Award honors the best industrial lift trucks and intralogistics solutions of the year as selected by a jury of leading international logistics media. Test days are held in Dortmund, Germany, in mid-March, when IFOY experts test all the nominated products. Test parameters include productivity, energy efficiency, safety, ergonomics and design. For more information surrounding the IFOY Test Days, visit
https://www.ifoy.org/en/
.
For more information or to locate an authorized Raymond Solutions and Support Center, visit
www.raymondcorp.com
or call
800-235-7200
.
About The Raymond Corporation
The Raymond Corporation, a Toyota Industries Company, is a leading global provider of best-in-class material handling products and intelligent intralogistics solutions. Built on principles of innovation and continuous improvement for 100 years, Raymond's integrated automation, telematics, virtual reality and advanced energy solutions provide ways to optimize operations and bring warehouse and distribution operations to a new level of performance. Raymond® electric forklift trucks are engineered to achieve increased productivity and efficiency and are designed to provide ecological and economic benefits. Raymond delivers solutions to material handling and logistics markets in North America and globally. Combining operational excellence, award-winning innovation and world-class global customer support, we work together to run better, manage smarter and keep our customers always on. For more information, visit raymondcorp.com and follow us on
Facebook
,
Twitter
,
YouTube
and
LinkedIn
.
####

iWAREHOUSE® and Raymond® are U.S. trademarks of The Raymond Corporation.

©2023 The Raymond Corporation. All rights reserved