Raymond Adds New Automated Transtacker To Intralogistics Solutions Offerings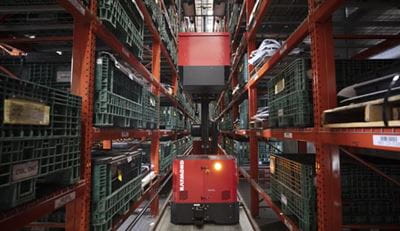 With a very narrow aisle (VNA) design and dual-mode versatility, the Raymond Automated Transtacker provides both space- and labor-saving benefits.
GREENE, N.Y., February 15, 2022 — The Raymond Corporation has introduced the Raymond® Automated Transtacker (Automated TRT) to its line of automated warehouse solutions, further expanding the company's comprehensive intralogistics solutions portfolio. With a very narrow aisle (VNA) design and dual-mode versatility, the Raymond Automated TRT provides both space- and labor-saving benefits.
Designed to keep you moving, the new Automated TRT offers dual-mode operation: automated mode for full pallet moves and manual mode for case picking. With no need for operator breaks, this means more hours on the floor and more pallets moved per shift, increasing productivity. The Automated TRT's Order Manager software fully integrates with your warehouse management system (WMS) to optimize performance and eliminate errors.
The ultimate VNA warehouse solution for applications such as e-commerce, manufacturing and food and beverage, the Automated TRT is designed to lift loads as heavy as 3,000 pounds in aisles as narrow as 54 inches, reaching heights up to 59 feet.
"This new Automated TRT showcases our dedication to keep our customers running at peak efficiency. This new model offers customers a flexible solution for high-density, high-selectivity storage environments," said Martin Buena Franco, product marketing manager of automation at Raymond. "Thanks to the increased productivity hours an automated truck provides, the Automated TRT can increase pallet moves by 20% per month."
Additional benefits include:
Flexibility

: Manufactured with the features needed to accommodate automation additions and changes down the road.

Sustainability

: Equipped with an energy-efficient lithium-ion battery, the Transtacker recharges during use and requires no changes.

Versatility

: The flexible, movable storage and retrieval lift design has no hydraulic components and longer service life. It's like getting two lift trucks in one.

Quality

: Automatic WMS eliminates human error for faster, more accurate and streamlined order processing.

Ease of Use

: Advanced controls provide precise positioning and load-handling functions, along with dynamic hoist braking, to help minimize brake wear and increase operator confidence.

Operator Comfort

: With top- and bottom-mounted guide rails, full-height mast, and an ergonomically designed compartment, the Transtacker offers unmatched stability for maximum operator comfort and productivity.
Raymond and its entire network of more than 100 authorized Solutions and Support Centers throughout North America – which offer customers local support and service – sell, support and service the new Automated TRT vehicles.
For more information on the Raymond Automated Transtacker, or to locate an authorized Raymond Solutions and Support Center, visit www.raymondcorp.com or call 800-235-7200.
About The Raymond Corporation
The Raymond Corporation, a Toyota Industries Company, is a leading global provider of best-in-class material handling products and intelligent intralogistics solutions. Built on principles of innovation and continuous improvement for 100 years, Raymond's integrated automation, telematics, virtual reality and advanced energy solutions provide ways to optimize operations and bring warehouse and distribution operations to a new level of performance. Raymond® electric forklift trucks are engineered to achieve increased productivity and efficiency and are designed to provide ecological and economic benefits. Raymond delivers solutions to material handling and logistics markets in North America and globally. Combining operational excellence, award-winning innovation and world-class global customer support, we work together to run better, manage smarter and keep our customers always on. For more information, visit raymondcorp.com and follow us on Facebook, Twitter, YouTube and LinkedIn.
####
Raymond® is a U.S. trademark of The Raymond Corporation.
©2022 The Raymond Corporation. All rights reserved.