Raymond's Jennifer de Souza To Speak At Center For International Business Advancement Forum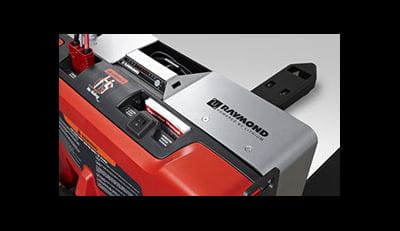 De Souza will highlight Raymond's advanced energy solutions, including recently released lithium-ion battery white paper
GREENE, N.Y., April 4, 2022 — Jennifer de Souza, senior director of Energy Solutions, Procurement and Leasing at The Raymond Corporation, will participate in a panel at the Center for International Business Advancement's Seventh Global Trade and Investment Forum on April 7, 2022, to speak about Raymond's advanced energy solutions.
The theme of this year's forum is "The Southern Tier and the World: Recharging Sustainable Economic Growth with New Battery Technologies." This year's forum will focus on the worldwide transition to clean energy and the impact of battery technologies on regional economies, particularly in New York's Southern Tier. De Souza's panel, "Transitioning From Lab Scale to Manufacturing Scale," will highlight battery innovation and improving manufacturing and supply chain processes in the energy storage sector.
"It's an honor to participate in this year's forum and represent Raymond in a conversation as important to our industry and our community as this one," de Souza said. "At Raymond, we take pride in providing advanced energy solutions that keep our customers running at peak efficiency and we are excited to continue to advance our energy solutions portfolio. The prospect of doing this with a localized, domestic, vertically integrated supply chain is exciting."
De Souza has worked at The Raymond Corporation for over nine years, leading Raymond's alternative energy initiatives. She was recognized as a Rock Star of the Supply Chain in 2020 for her contribution to efficiency, productivity and innovation in the global food supply chain.
Raymond energy solutions are engineered to specifically meet the rigors of the toughest material handling applications. To support ongoing advancements in the energy field, Raymond has released a new white paper highlighting its best-in-class lithium-ion battery performance. Benefits featured in the white paper include:
Greater efficiencies offered by lithium-ion batteries, including limited maintenance requirement, rapid charging and longer useful life.

Proprietary cell construction and manufacturing processes to provide best-in-class cycle life.

Battery architecture designed to support two-shift high-duty applications, allowing the batteries to support the toughest use cases while maintaining reserve power and flexibility for other applications.
The full white paper and additional information on Raymond's advanced energy solutions can be found at www.raymondcorp.com/products/energy-solutions.
To learn more about The Raymond Corporation, visit www.raymondcorp.com or call 800-235-7200.
About Center for International Business Advancement
CIBA is an applied research and education center and a policy forum with a mission to boost economic growth and job creation in New York's Southern Tier through increased global competitiveness of the region. Visit https://www.binghamton.edu/centers/ciba/ for more information.

About The Raymond Corporation
The Raymond Corporation, a Toyota Industries Company, is a leading global provider of best-in-class material handling products and intelligent intralogistics solutions. Built on principles of innovation and continuous improvement for 100 years, Raymond's integrated automation, telematics, virtual reality and advanced energy solutions provide ways to optimize operations and bring warehouse and distribution operations to a new level of performance. Raymond® electric forklift trucks are engineered to achieve increased productivity and efficiency and are designed to provide ecological and economic benefits. Raymond delivers solutions to material handling and logistics markets in North America and globally. Combining operational excellence, award-winning innovation and world-class global customer support, we work together to run better, manage smarter and keep our customers always on. For more information, visit raymondcorp.com and follow us on Facebook, Twitter, YouTube and LinkedIn.
####
Raymond® is a U.S. trademark of The Raymond Corporation.
©2022 The Raymond Corporation. All rights reserved.