Raymond Performs Unparalleled Lithium-Ion Testing To Provide Industry-Leading Solutions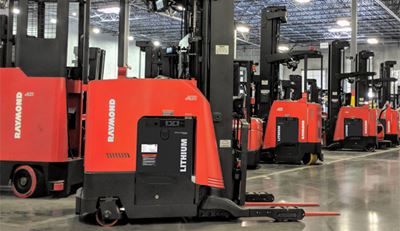 Raymond to present research, testing at upcoming NY-BEST conference.
GREENE, N.Y., October 20, 2021 — The Raymond Corporation is committed to providing leading energy solutions that elevate and optimize operations through unequalled testing and performance evaluations. As the lithium-ion power market continues to grow rapidly throughout the industry, Raymond is on the cutting edge of this growth, working in coordination with the Battery and Energy Storage Technology Test (BEST) & Commercialization Center (BTCC), an ISO 17025 accredited testing laboratory, to build significant capability in lithium-ion battery testing and development.
"The BTCC brings together over 250 years of combined DNV and NY-BEST team experience," said Richard S. Barnes, regional president, Energy Systems North America at DNV. "Testing at the facility provides crucial insights into the longevity as well as the technical performance of energy storage systems used in any situation. The high-quality, flexible testing capabilities also provide third-party independence to the test results."

For the utmost reliability and performance, Raymond energy solutions are put through rigorous testing at the BTCC. Energy Essentials Distributed by Raymond® is just one example in which Raymond's testing results in a comprehensive lithium-ion, high-performance energy solution to optimize operations. The implementation of Energy Essentials batteries provides operations with significant productivity enhancements, including increased uptime, reduced electricity consumption and a smaller carbon footprint, by allowing for more time between charges.
"We are in a dynamic world with quickly evolving needs. To stay ahead of the curve, Raymond is driving energy innovations to elevate operations and meet the demands of today," said Jennifer de Souza, senior director, energy solutions, procurement & leasing. "Raymond is dedicated to bringing unparalleled emerging technologies to the commercial market through rigorous testing and qualification."
On Oct. 27, 2021, Dan Harris, a Raymond engineer for energy systems, will give a seminar on the battery-testing process at the New York Battery and Energy Storage Technology Consortium (NY-BEST) Fall Energy Storage Technology and Innovation Conference held in Binghamton, New York.
For more information on The Raymond Corporation, visit www.raymondcorp.com.
About The Raymond Corporation
The Raymond Corporation, a Toyota Industries Company, is a leading global provider of best-in-class material handling products and intelligent intralogistics solutions. Built on principles of innovation and continuous improvement for over 95 years, Raymond's integrated automation, telematics, virtual reality and advanced energy solutions provide ways to optimize operations and bring warehouse and distribution operations to a new level of performance. Raymond® electric forklift trucks are engineered to achieve increased productivity and efficiency and are designed to provide ecological and economic benefits. In partnership with Toyota Advanced Logistics Solutions, Raymond delivers solutions to material handling and logistics markets in North America and globally. Combining operational excellence, award-winning innovation and world-class global customer support, we work together to run better, manage smarter and keep our customers always on. For more information, visit raymondcorp.com and follow us on Facebook, Twitter, YouTube and LinkedIn.
About the BEST Test & Commercialization Center (BTCC)
The Battery and Energy Storage Technology (BEST) Test & Commercialization Center (BTCC) helps promote a clean energy society through innovative battery and energy storage technology. Located in Rochester, New York, it is the result of a collaboration with the New York BEST Consortium. The center's unique capabilities help bring emerging technologies to the commercial market and offer companies essential product testing and qualification at a reasonable cost.

The BTCC brings together over 250 years of combined DNV and NY-BEST team experience, including electrical performance, degradation and safety testing of battery and energy storage equipment, R&D and consultancy. This allows us to provide unequalled, strictly independent and impartial battery testing in the lab and in the field.

###
Raymond® is a U.S. trademark of The Raymond Corporation.
©2021 The Raymond Corporation. All rights reserved.