Raymond's iWAREHOUSE® Real-Time Location System Nominated for 2022 Edison Award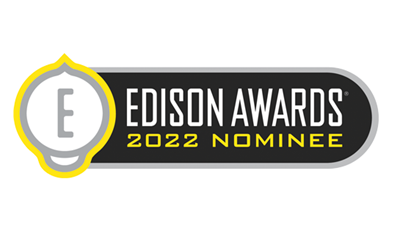 Innovative assist technology recognized for excellence in the industry.
GREENE, N.Y., December 9, 2021 — The Raymond Corporation's iWAREHOUSE® Real-Time Location System (iW.RTLS) has been nominated for the 2022 Edison Best New Product Awards™, an annual competition designed to honor excellence in new product and service development, marketing, human-centered design and innovation.
Nominated in the Manufacturing, Transportation, or Logistics category, iW.RTLS is an innovative technology that enables facility managers to manage operations easier and more effectively by monitoring and identifying the movement of lift trucks, personnel and assets in warehouse facilities. iW.RTLS optimizes operations processes, reinforces training and reduces operational costs. Facility management can define specific zones and the system can be configured to bring a Raymond lift truck to a stop or slow down when in those defined zones.
All nominations are vetted by the Edison Award Steering Committee members, who present a slate of finalists to the panel of judges. The panel is composed of over 3,000 senior business executives and academics from across the globe. Final award recognition will be presented at The Edison Awards Gala and Celebration in April 2022 in Fort Myers, Florida.
To view Raymond's nomination, visit https://edisonawards.com/nomineegallery.php.
To learn more about The Raymond Corporation, visit www.raymondcorp.com or call 800-235-7200.
About The Raymond Corporation
The Raymond Corporation, a Toyota Industries Company, is a leading global provider of best-in-class material handling products and intelligent intralogistics solutions. Built on principles of innovation and continuous improvement for over 95 years, Raymond's integrated automation, telematics, virtual reality and advanced energy solutions provide ways to optimize operations and bring warehouse and distribution operations to a new level of performance. Raymond® electric forklift trucks are engineered to achieve increased productivity and efficiency and are designed to provide ecological and economic benefits. Raymond delivers solutions to material handling and logistics markets in North America and globally. Combining operational excellence, award-winning innovation and world-class global customer support, we work together to run better, manage smarter and keep our customers always on. For more information, visit raymondcorp.com and follow us on Facebook, Twitter, YouTube and LinkedIn.

####

iWAREHOUSE® and Raymond® are U.S. trademarks of The Raymond Corporation.

©2021 The Raymond Corporation. All rights reserved.