John Rosenberger of The Raymond Corporation Receives MHI Mentor Award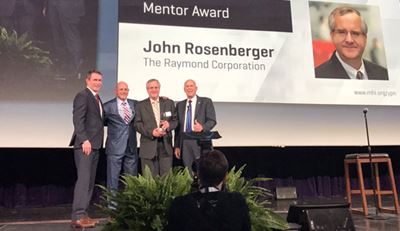 John Rosenberger, director of iWAREHOUSE GATEWAY™ and global telematics for The Raymond Corporation, has been presented with the MHI Mentor Award.
Atlanta, G.A., March 12, 2020 — John Rosenberger, director of iWAREHOUSE GATEWAY™ and global telematics for The Raymond Corporation, has been presented with the MHI Mentor Award. This award recognizes Rosenberger's dedication to The Raymond Corporation for the past 10 years, providing technical and managerial leadership to the material handling industry.
Rosenberger and his team were instrumental in the development of Raymond's iWAREHOUSE product offerings. Under Rosenberger's management, Raymond has become a leading telematics manufacturer. As an active member of the Toyota Industries global product planning team, Rosenberger shares his expertise and guidance across the entire network.
In addition to providing leadership for Raymond's iWAREHOUSE offerings, Rosenberger leads internal team development, promoting continuing education for his staff members and providing guidance to his workforce and encouraging them to become leaders, with a number of them pursuing management positions.
"We are extremely proud that John Rosenberger was chosen as the 2020 MHI Mentor Award winner," said Michael Field, chief executive officer of The Raymond Corporation. "Under John's leadership and guidance, Raymond's global telematics team has developed industry-leading solutions that have fulfilled Raymond's promise to continuously improve and keep our clients always on."
The award winner was announced at Industry Night on Wednesday, March 11, during MODEX 2020 in Atlanta.
About The Raymond Corporation
The Raymond Corporation, a Toyota Industries Company, is a leading global provider of best-in-class material handling products and intelligent intralogistics solutions. Built on principles of innovation and continuous improvement for over 95 years, Raymond's integrated automation, telematics, virtual reality and advanced energy solutions provide ways to optimize operations and bring warehouse and distribution operations to a new level of performance. Raymond® electric forklift trucks are engineered to achieve increased productivity and efficiency and are designed to provide ecological and economic benefits. In partnership with Toyota Advanced Logistics Solutions, Raymond delivers solutions to material handling and logistics markets in North America and globally. Combining operational excellence, award-winning innovation and world-class global customer support, we work together to run better, manage smarter and keep our customers always on.
For more information, visit raymondcorp.com and follow us on Facebook, Twitter, YouTube and LinkedIn.
###
iWAREHOUSE®, iWAREHOUSE GATEWAY™, and Raymond® are U.S. trademarks of The Raymond Corporation.
©2020 The Raymond Corporation. All rights reserved.