Raymond Virtual Reality Simulator Wins 2019 Edison Best New Product Awards™ Recognition for Innovation Excellence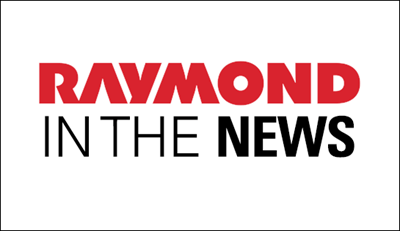 The Raymond Virtual Reality Simulator has been named a 2019 Edison Best New Product Awards™ winner in recognition for excellence in innovation.
GREENE, N.Y., June 19, 2019 — The Raymond Virtual Reality Simulator has been named a 2019 Edison Best New Product Awards™ winner in recognition for excellence in innovation. The Virtual Reality Simulator was chosen among the best products by more than 3,000 of the world's senior business executives, academics and innovation professionals.
Originally established in 1987, by the American Marketing Association but an independent organization since 2008, the Edison Awards is an annual competition honoring excellence in new product and service development, marketing, human-centered design and innovation. Named after inventor Thomas A. Edison, the award symbolizes the persistence and excellence in innovation needed to make game-changing products. With 16 different categories, submissions are judged on concept, value, delivery and impact.
"We are excited about our innovation being recognized among such an expansive group of technology solutions from various global companies," said Stacey Patch, business manager of the virtual reality simulator, The Raymond Corporation. "Our mission is to improve our own industry with game-changing innovations, such as the Raymond Virtual Reality Simulator, and solve manufacturing challenges with unique and attractive solutions."
The Raymond Virtual Reality Simulator is an advanced operational learning tool that provides hands-on instruction in a virtual environment, educating new and existing forklift operators on best practices. The Raymond Virtual Reality Simulator plugs directly into a Raymond® forklift's patent-pending sPort, or Simulation Port, allowing full immersion into the virtual environment using a truck's real controls. The use of the Raymond Virtual Reality Simulator on an actual Raymond® forklift minimizes disruption of day-to-day warehouse operations and eliminates the need to purchase separate equipment.
To learn more about the Edison Awards or to see the 2019 list of finalists, please visit www.edisonawards.com.
About the Edison Awards
Since 1987, the Edison Awards™ have recognized and honored some of the most innovative new products, services and business leaders in America. The awards are named after Thomas Alva Edison (1847-1931), whose extraordinary new product and market development methods garnered him 1,093 U.S. patents and made him a household name across the world. The Edison Awards symbolize the persistence and excellence personified by Thomas Edison, while also strengthening the human drive for innovation, creativity and ingenuity.
About The Raymond Corporation
For more than 95 years, The Raymond Corporation has built a reputation on innovation, quality and service. Raymond® manual and electric forklifts — with the industry's first integrated intelligence — meet a variety of material handling needs and offer advanced end-to-end warehouse solutions that enable operations to run better and manage smarter. This philosophy helps ensure Raymond and its customers are always evolving, always running, always moving ahead — and always on. The portfolio of advanced offerings includes the iWAREHOUSE® fleet management and warehouse optimization system, featuring real-time location tracking; automated lift truck solutions for the warehouse of the future; and the Raymond Virtual Reality Simulator, a supplemental instructional tool that helps customers improve their operations and meet industry labor demands. Raymond also provides industry-leading customer support through a network of skilled technicians and its authorized Solutions and Support Centers. Raymond's work in energy solutions, space utilization, ergonomics, manufacturing quality and fleet optimization — combined with best-in-class products and services — work together to increase efficiency and lower costs throughout material handling operations.
####
iWAREHOUSE® and Raymond® are U.S. trademarks of The Raymond Corporation.
©2019 The Raymond Corporation. All rights reserved.