The Raymond Corporation Recognized as 2019 Manufacturing Leadership Award Winner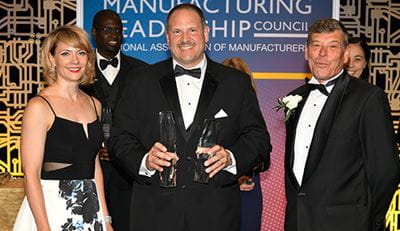 The Raymond Corporation earned a 2019 talent management leadership award and a 2019 high achiever award from the National Association of Manufacturers' Manufacturing Leadership Council.
GREENE, N.Y., August 15, 2019 — Chosen from an esteemed group of global manufacturing leaders, The Raymond Corporation earned a 2019 talent management leadership award and a 2019 high achiever award from the National Association of Manufacturers' Manufacturing Leadership Council. The talent management leadership award, given to creators of innovative and engaging workforce solutions, was presented to Raymond for its Raymond Virtual Reality Simulator. The high achiever award was presented to a select group of Manufacturing Leadership Council award-winners that received the highest scores in the nine project categories.
Raymond, a global provider of intralogistics solutions, was recognized June 10, 2019, at the Manufacturing Leadership Awards Gala in Huntington Beach, California. The Manufacturing Leadership Awards honor manufacturing companies and individual manufacturing leaders who are shaping the future of global manufacturing. A panel of expert judges chose the winning projects and individual manufacturing leaders for results that have delivered clear and compelling value, return on investment and other tangible outcomes.
Raymond developed the Raymond Virtual Reality Simulator to address the manufacturing industry's skills and labor gap. The Raymond Virtual Reality Simulator allows new and existing forklift operators to learn best practices and increase confidence in a virtual environment — all before reaching the warehouse floor. The simulator utilizes an existing Raymond® forklift — an industry first — by plugging the virtual reality system into the company's patent-pending sPort, or Simulation Port, so the forklift can be returned for use in the warehouse after education purposes.
"As an industry leader aiming to close the skills and labor gap in the manufacturing sector, we're honored that the Manufacturing Leadership Council recognized the Raymond Virtual Reality Simulator as a dynamic solution to these challenges," said Tony Topencik, senior director of operations at Raymond. "Efficiency and productivity remain at the forefront of our intralogistics solutions, ultimately helping our customers with their daily operations. The material handling industry has experienced exceptional growth in the past few years, so we are always seeking to proactively address any challenges our customers may be facing as a result of that growth."
Last year, Raymond won an operational excellence leadership award for its work implementing the Toyota Production System (TPS) at its Greene, New York, facility and for the company's long-standing commitment to improved quality and superior performance.
To learn more about the 2019 Manufacturing Leadership Award winners, visit http://mlawards.gilcommunity.com/. For more information about The Raymond Corporation or to locate an authorized Raymond Solutions and Support Center, visit www.raymondcorp.com or call 800-235-7200.
About The Raymond Corporation
For more than 95 years, The Raymond Corporation has built a reputation on innovation, quality and service. Raymond® manual and electric forklifts meet a variety of material handling needs and offer advanced end-to-end warehouse solutions that enable operations to run better and manage smarter. This philosophy helps ensure Raymond and its customers are always evolving, always running, always moving ahead — and always on. The portfolio of advanced offerings includes the iWAREHOUSE® fleet management and warehouse optimization system; automated lift truck solutions for the warehouse of the future; and the Raymond Virtual Reality Simulator, a supplemental instructional tool that helps customers improve their operations and meet industry labor demands. Raymond also provides industry-leading customer support through a network of skilled technicians and its authorized Solutions and Support Centers. Raymond's work in energy savings, space utilization, ergonomics, manufacturing quality and fleet optimization — combined with best-in-class products and services — work together to increase efficiency and lower costs throughout material handling operations.
####
iWAREHOUSE® and Raymond® are U.S. trademarks of The Raymond Corporation.
©2019 The Raymond Corporation. All rights reserved.