Raymond Founder Inducted Into 2019 Supply Chain Hall of Fame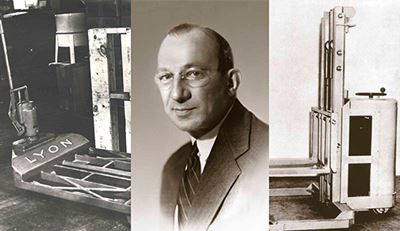 The Raymond Corporation's founder George Raymond Sr. was announced as an inductee into the 2019 Supply Chain Hall of Fame by the Council of Supply Chain Management Professionals.
GREENE, N.Y., October 22, 2019 — The Raymond Corporation's founder George Raymond Sr. was announced as an inductee into the 2019 Supply Chain Hall of Fame by the Council of Supply Chain Management Professionals (CSCMP) at the recent EDGE Conference in Anaheim, California.
George Raymond Sr. established Raymond's success in 1922 when he purchased a foundry in Greene, New York. Seventeen years later, George Raymond Sr. was granted patents for the double-faced wooden pallet and the hydraulic hand pallet truck revolutionizing the material handling industry.
Always the visionary, George Raymond Sr. was instrumental in developing the first electric, narrow aisle lift truck. Able to operate in aisles less than 7 feet and without a counterbalancing chassis, the vehicle preserved its gravitational integrity by straddling the pallet with baselegs, the basic principle for all narrow aisle trucks from that point on. This truck cemented Raymond's place as the undisputed leader in the material handling industry.
"The principles instilled by my grandfather in 1922 are the same values that continue to define The Raymond Corporation to this day," said Steve Raymond, former vice president of The Raymond Corporation and former president and CEO of the Raymond Handling Concepts Corporation, an authorized Raymond Sales & Service Center. "The company's vision and penchant for innovation were part of Raymond's core beliefs from the very beginning and continue to help us pioneer high-productivity material handling solutions."
CSCMP established the Supply Chain Hall of Fame in 2016 and honors individuals who have made outstanding contributions to the supply chain discipline and served as role models to supply chain students, young professionals, budding entrepreneurs or career supply chain professionals.
Over the last century, the Raymond® brand has delivered the promise of trucks that offer high performance and reliability paired with low cost of operation. To learn more about The Raymond Corporation, visit http://www.raymondcorp.com/ or call 800-235-7200.
About The Raymond Corporation
For more than 95 years, The Raymond Corporation has built a reputation on innovation, quality and service. Raymond® manual and electric forklifts — with the industry's first integrated intelligence — meet a variety of material handling needs and offer advanced end-to-end warehouse solutions that enable operations to run better and manage smarter. This philosophy helps ensure Raymond and its customers are always evolving, always running, always moving ahead — and always on. The portfolio of advanced offerings includes the iWAREHOUSE® fleet management and warehouse optimization system, featuring real-time location tracking; automated lift truck solutions for the warehouse of the future; and the Raymond Virtual Reality Simulator, a supplemental instructional tool that helps customers improve their operations and meet industry labor demands. Raymond also provides industry-leading customer support through a network of skilled technicians and its authorized North American and global Solutions and Support Centers. Raymond's work in energy solutions, space utilization, ergonomics, manufacturing quality and fleet optimization — combined with best-in-class products and services — work together to increase efficiency and lower costs throughout material handling operations.
####
iWAREHOUSE® and Raymond® are U.S. trademarks of The Raymond Corporation.
©2019 The Raymond Corporation. All rights reserved.