Inbound Logistics Honors The Raymond Corporation's Sustainability Efforts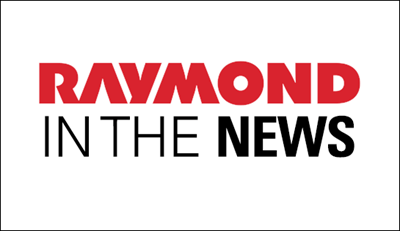 Inbound Logistics has recognized The Raymond Corporation as a 2019 G75 Green Supply Chain Partner.
GREENE, N.Y., August 21, 2019 — Inbound Logistics has recognized The Raymond Corporation as a 2019 G75 Green Supply Chain Partner. The publication profiled Raymond in a June G75 special report, recognizing the company's commitment to developing and implementing sustainable initiatives.
Inbound Logistics selects annual G75 Green Supply Chain Partners based on the companies' current and ongoing green logistics initiatives. The publication chose Raymond for continuously improving sustainability efforts within Raymond warehouses, including tapping into alternative fuels or energy sources, implementing a reuse/recycling program, reusing wastewater and incorporating sustainable packaging.
In addition to the company's array of sustainable supply chain practices and energy solutions, the Raymond iWAREHOUSE® platform helps Raymond and its customers measure fleet and operator performance for optimum results. It tracks key performance metrics, energy consumption and cost savings, as well as lift truck uptime, battery performance, kilowatt usage, operator behavior and throughput. This powerful telematics solution allows managers to correct inefficiencies and track progress against goals so improvements can be made.
"Having a full scale of intralogistics solutions allows Raymond and our customers to track critical information such as productivity, uptime, battery performance and cost savings," said Michael Field, CEO, Raymond. "At Raymond, we are always searching for ways to make our warehouses and our customers' operations more sustainable, so being recognized for our efforts is a meaningful accomplishment."
About The Raymond Corporation
For more than 95 years, The Raymond Corporation has built a reputation on innovation, quality and service. Raymond® manual and electric forklifts — with the industry's first integrated intelligence — meet a variety of material handling needs and offer advanced end-to-end warehouse solutions that enable operations to run better and manage smarter. This philosophy helps ensure Raymond and its customers are always evolving, always running, always moving ahead — and always on. The portfolio of advanced offerings includes the iWAREHOUSE® fleet management and warehouse optimization system, featuring real-time location tracking; automated lift truck solutions for the warehouse of the future; and the Raymond Virtual Reality Simulator, a supplemental instructional tool that helps customers improve their operations and meet industry labor demands. Raymond also provides industry-leading customer support through a network of skilled technicians and its authorized North American and global Solutions and Support Centers. Raymond's work in energy solutions, space utilization, ergonomics, manufacturing quality and fleet optimization — combined with best-in-class products and services — work together to increase efficiency and lower costs throughout material handling operations.
####
iWAREHOUSE® and Raymond® are U.S. trademarks of The Raymond Corporation.
©2019 The Raymond Corporation. All rights reserved.