Raymond Hosts Inaugural Engineering Day Event at Headquarters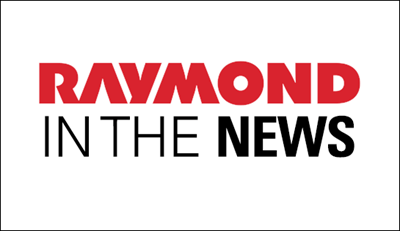 The Raymond Corporation hosted more than 150 high school students at its headquarters in Greene, New York, on Friday, May 17 for the company's inaugural engineering day.
GREENE, N.Y., May 17, 2019 — The Raymond Corporation hosted more than 150 high school students at its headquarters in Greene, New York, on Friday, May 17 for the company's inaugural engineering day. Students from more than 9 schools across the Southern Tier of New York state learned about career opportunities within engineering and its multitude of disciplines.
"At Raymond, our goal is to inspire students with engaging, hands-on learning experiences — from various areas of the engineering field — that they otherwise may not be able to experience in the classroom," said Erric Heitmann, vice president of engineering, Raymond. "Engineering has a great number of disciplines that many don't even realize. We are excited to showcase them and demonstrate how they are used right here at our facility, from computer engineering to manufacturing engineering — and beyond."
Raymond's Engineering Day featured more than 12 interactive exhibits including 3D printing, modeling and analysis, augmented reality (AR) technology, iWAREHOUSE® simulation and the award-winning Raymond Virtual Reality Simulator.
Many of the students and teachers who attended are part of engineering programs at their respective schools. Project Lead the Way (PLTW) is one program that helps engage students in hands-on projects and empowers them to solve real-world challenges. This nationwide program prepares students to be successful in engineering and engineering technology careers, and also prepares them for post-secondary education in science, technology, engineering and mathematics (STEM) related fields.
"We are very excited that our students can see how engineering is being used first-hand at a leading company right here in New York state," said Marta Gaska, teacher and PLTW program director at Binghamton High School in Binghamton, N.Y. "We hope that through the PLTW program and partners like Raymond we can inspire the next generation of engineers."
High school students who also participate in Pathways in Technology Early College High School (P-TECH) also were in attendance. P-TECH is a program offered through the Board of Cooperative Educational Services in New York State. Its curriculum focuses on preparing students to earn an associate's degree in either computer technology, engineering technology or health studies. This program enables students to earn an associate degree while working toward earning their high school diploma.
About The Raymond Corporation
For more than 95 years, The Raymond Corporation has built a reputation on innovation, quality and service. Raymond® manual and electric forklifts meet a variety of material handling needs and offer advanced end-to-end warehouse solutions that enable operations to run better and manage smarter. This philosophy helps ensure Raymond and its customers are always evolving, always running, always moving ahead — and always on. The portfolio of advanced offerings includes the iWAREHOUSE® fleet management and warehouse optimization system; automated lift truck solutions for the warehouse of the future; and the Raymond Virtual Reality Simulator, a supplemental instructional tool that helps customers improve their operations and meet industry labor demands. Raymond also provides industry-leading customer support through a network of skilled technicians and its authorized Solutions and Support Centers. Raymond's work in energy savings, space utilization, ergonomics, manufacturing quality and fleet optimization — combined with best-in-class products and services — work together to increase efficiency and lower costs throughout material handling operations.
###
iWAREHOUSE® and Raymond® are U.S. trademarks of The Raymond Corporation.
©2019 The Raymond Corporation. All rights reserved.