Raymond Provides Support to More Than 150 Nonprofit and Educational Organizations in 2018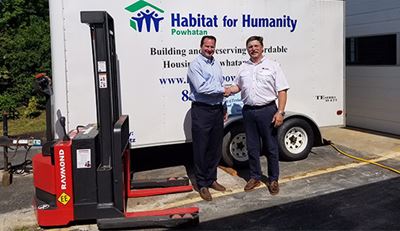 Raymond Sales & Service Center network continues nonprofit giving and support across U.S. and Canadian locations.
GREENE, N.Y., December 17, 2018 — In 2018, The Raymond Corporation contributed to over 150 nonprofit and educational organizations with monetary contributions, forklift donations and voluntary participation. From food donations to the local area food pantry close to its headquarters in Greene, N.Y., to supporting causes ranging from cancer awareness, veterans rehabilitation and animal rescue, Raymond and its employees recognize that nonprofit support sustains communities.
In addition, Raymond aids technology advancement by supporting education and programs that fuel the future workforce. Raymond continually collaborates with high schools, trade schools, colleges and universities to promote learning and development across a number of disciplines and invites these students into its facilities for learning experiences and tours. Its annual National Manufacturing Day event, held every October, supports students across the southern tier of New York high schools providing hands-on activities and reinforcing manufacturing as a viable future career.
"Every year, it continues to be important for Raymond to support causes that directly impact the needs of our surrounding communities," says Steve VanNostrand, executive vice president of human resources at Raymond. "We are grateful to have such a strong network of Sales & Service Centers that continue our mission, providing support in their communities across North America."
Here are some examples of Raymond authorized Sales & Service Center support and giving this year:
Raymond's enterprise consists of 21 authorized Sales & Service Centers that offer sales and support across North America. From support of nonprofit organizations with their time, monetary donations and participation in fundraising events, Raymond's Sales & Service Centers are an integral part of the organization, and they carry on Raymond's core values.
Please visit www.raymondcorp.com/giving to learn more, and follow Raymond's Days of Giving campaign on Facebook.com/TheRaymondCorporation and Twitter.com/RaymondCorp to see more of their efforts and giving to communities across North America.
About The Raymond Corporation
For more than 95 years, The Raymond Corporation has built a reputation on innovation, quality and service. Raymond® manual and electric forklifts meet a variety of material handling needs and offer advanced end-to-end warehouse solutions that enable operations to run better and manage smarter. This philosophy helps ensure Raymond and its customers are always evolving, always running, always moving ahead — and always on. The portfolio of advanced offerings includes the iWAREHOUSE® fleet management and warehouse optimization system; automated lift truck solutions for the warehouse of the future; and the Raymond Virtual Reality Simulator, a supplemental instructional tool that helps customers improve their operations and meet industry labor demands. Raymond also provides industry-leading customer support through a network of skilled technicians and its authorized Solutions and Support Centers. Raymond's work in energy savings, space utilization, ergonomics, manufacturing quality and fleet optimization — combined with best-in-class products and services — work together to increase efficiency and lower costs throughout material handling operations.
####
iWAREHOUSE® and Raymond® are U.S. trademarks of The Raymond Corporation.
©2018 The Raymond Corporation. All rights reserved.