Raymond's Justin Sturek Named an Engineer Under 40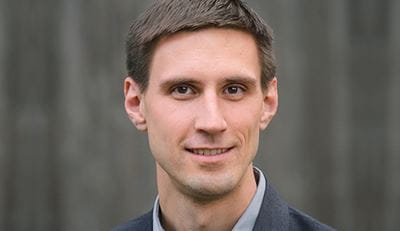 Justin Sturek, continuous improvement manager at The Raymond Corporation, was named a 2018 Engineering Leader Under 40 by Plant Engineering.
GREENE, N.Y., September 17, 2018 — Justin Sturek, continuous improvement manager at The Raymond Corporation, was named a 2018 Engineering Leader Under 40 by Plant Engineering.
The Engineering Leaders Under 40 program recognizes young manufacturing professionals who are making significant contributions to their plant's success and developing innovative solutions to advance the industry. The goal of the program is to call attention to these talented engineering professionals and showcase how they're leading the way in education, workplace contributions and community participation.
"It's an honor to receive this recognition amongst so many other engineering industry leaders," Sturek said. "At Raymond, I'm able to coach, mentor and teach leaders how to eliminate waste in the transactional process and train internal and external resources on cost reduction opportunities, all creating enhanced efficiencies and increased productivity."
During his time at Raymond, Justin has facilitated 10 continuous improvement initiatives focused on creating standardized work for installation and scheduled maintenance processes for more than 2,500 authorized Raymond Solutions and Support Center technicians. He also believes in sharing his passion for engineering with local youth, participating in numerous Manufacturing Day events at Raymond.
"Justin plays a key role in implementing Toyota Production System methods for our non-manufacturing processes. He's made significant improvements to help standardize work, visualize management offerings and utilize kaizen best practices," said Rick Harrington, senior vice president, operations, Raymond. "Justin's improvement initiatives have helped take our product portfolio to the highest level of performance and reliability."
About The Raymond Corporation
For more than 95 years, The Raymond Corporation has built a reputation on innovation, quality and service. Raymond® manual and electric forklifts meet a variety of material handling needs and offer advanced end-to-end warehouse solutions that enable operations to run better and manage smarter. This philosophy helps ensure Raymond and its customers are always evolving, always running, always moving ahead — and always on. The portfolio of advanced offerings includes the iWAREHOUSE® fleet management and warehouse optimization system; automated lift truck solutions for the warehouse of the future; and the Raymond Virtual Reality Simulator, a supplemental instructional tool that helps customers improve their operations and meet industry labor demands. Raymond also provides industry-leading customer support through a network of skilled technicians and its authorized Solutions and Support Centers. Raymond's work in energy savings, space utilization, ergonomics, manufacturing quality and fleet optimization — combined with best-in-class products and services — work together to increase efficiency and lower costs throughout material handling operations
####
iWAREHOUSE® and Raymond® are U.S. trademarks of The Raymond Corporation.
©2018 The Raymond Corporation. All rights reserved.