Food Logistics Names Raymond A 2018 FL100+ Top Software and Technology Provider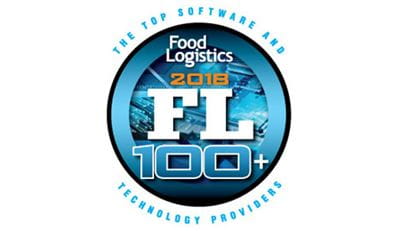 The Raymond Corporation was listed as a FL100+ Top Software and Technology Provider for its supplemental virtual reality educational tool.
GREENE, N.Y., December 17, 2018 — The Raymond Corporation was listed as a FL100+ Top Software and Technology Provider for its supplemental virtual reality educational tool that's helping close the manufacturing skills gap and attract younger talent to the industry. The Raymond Virtual Reality Simulator allows users to enter a simulated warehouse environment and become familiar with a Raymond forklift and its controls — using an actual Raymond truck — prior to operating on the warehouse floor.
"Raymond is proud to be listed among other reputable software and technology providers that are advancing the global food and beverage industry," said Dave Norton, vice president of corporate quality and customer care, Raymond. "Our goal with the Raymond Virtual Reality Simulator is to provide a real-world experience for forklift operators — offering engaging educational modules based on fundamental principles and best practices that prepare individuals for the warehouse floor."
The annual FL100+ Top Software and Technology Providers resource guide names those suppliers whose products and services are critical for global food and beverage supply chain companies.
"The digital supply chain continues its rapid emergence, bringing with it expanded capabilities that impact visibility, security, compliance and efficiency," said Lara L. Sowinski, editorial director for Food Logistics. "Every aspect of the global food supply chain can benefit from new and innovative software and technology that is fundamentally changing the global food supply chain."
To learn more about The Raymond Corporation, visit www.raymondcorp.com or call 800-235-7200.
About The Raymond Corporation
For more than 95 years, The Raymond Corporation has built a reputation on innovation, quality and service. Raymond® manual and electric forklifts — with the industry's first integrated intelligence — meet a variety of material handling needs and offer advanced end-to-end warehouse solutions that enable operations to run better and manage smarter. This philosophy helps ensure Raymond and its customers are always evolving, always running, always moving ahead — and always on. The portfolio of advanced offerings includes the iWAREHOUSE® fleet management and warehouse optimization system, featuring real-time location tracking; automated lift truck solutions for the warehouse of the future; and the Raymond Virtual Reality Simulator, a supplemental instructional tool that helps customers improve their operations and meet industry labor demands. Raymond also provides industry-leading customer support through a network of skilled technicians and its authorized North American and global Solutions and Support Centers. Raymond's work in energy savings, space utilization, ergonomics, manufacturing quality and fleet optimization — combined with best-in-class products and services — work together to increase efficiency and lower costs throughout material handling operations.
About Food Logistics
Food Logistics is published by AC Business Media, a business-to-business media company that provides targeted content and comprehensive, integrated advertising and promotion opportunities for some of the world's most recognized B2B brands. Its diverse portfolio serves the construction, logistics, supply chain and other industries with print, digital and custom products, events and social media.
####
iWAREHOUSE® and Raymond® are U.S. trademarks of The Raymond Corporation.
©2018 The Raymond Corporation. All rights reserved.