Raymond Welder Awarded Gold Medal In Inaugural Toyota Material Handling Group Skills Competition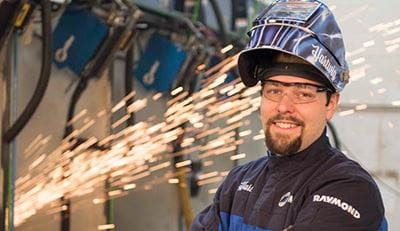 The Raymond Corporation was represented by Raymond welder Mark Hartwig at the inaugural Toyota Material Handling Group (TMHG) Skills Competition in Takahama, Japan, March 16, 2017.
GREENE, N.Y. —The Raymond Corporation was represented by Raymond welder Mark Hartwig at the inaugural Toyota Material Handling Group (TMHG) Skills Competition in Takahama, Japan, March 16, 2017. To showcase their skillsets, participants had to weld a steel pressure vessel performing tack welding, semi-automatic welding and finishing of the surface. Hartwig placed first in the competition among seven other competitors across TMHG facilities in the United States, Italy, Sweden, France, and China.

"Participating in the Toyota Skills Competition has been an opportunity of a lifetime," said Hartwig. "I'm so honored that I could be a part of one of the Toyota Material Handling Group's first welding competitions and compete with the best of the best."

Accompanying Hartwig was Jim Cirigliano, welding operations manager at The Raymond Corporation. After experiencing Toyota Industries Co. (TICO) Skills Competitions in Japan years earlier, Cirigliano championed to begin an internal welding competition at Raymond's headquarters in Greene, New York. In 2015, Raymond's internal welding competitions began, helping promote friendly competition and enhancing welding skills and knowledge. As the internal welding competition winner two years in a row, Hartwig earned the invitation by Toyota to travel to Japan to compete in the TMHG Skills Competition.

"Toyota holds the Skills Competition to know and understand where our company's welding skills are and to promote higher skills learning in the Toyota Material Handling Group. Mark's work was beautiful and could withstand the water pressure test, which showcased Raymond's excellent forklift welding quality," says Hisanori Miyajima, manufacturing general manager, Toyota Industries Co. "We would like to congratulate and thank not only Mark but also his supporting members at Raymond. We believe this win came from good preparation and teamwork through pre-competition activities."

Earning a gold medal in the TMHG Skills Competition allowed Hartwig to move on to compete at the TICO Skills Competition the weekend of Saturday, March 18, 2017. Hartwig placed fifth in that competition against 18 competitors from around the world — all of whom work in TICO facilities.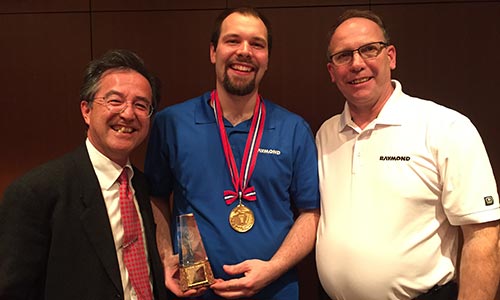 To learn more about The Raymond Corporation, visit www.raymondcorp.com or call 800-235-7200.
About The Raymond Corporation
The Raymond Corporation is a global provider of end-to-end warehouse solutions, fleet management, forklift training and support to increase efficiency and lower costs throughout material handling operations. Raymond® forklifts are engineered to achieve higher performance, enhance operator comfort and increase efficiency. Raymond manufactures a full line of forklift trucks — including reach trucks, pallet jacks, pallet stackers, sit-down and stand-up forklifts, orderpickers and turret trucks. The iWAREHOUSE® fleet management and warehouse optimization system provides solutions to manage industrial vehicle fleets, labor efficiencies and warehouses. Additionally, flexible automation, customized solutions and industry-leading consultation from Raymond further enhance and streamline processes while helping customers to drive down costs. Raymond is a recipient of the 2015 and 2016 Manufacturing Leadership Award from Frost & Sullivan.
####
iWAREHOUSE®, iWAREHOUSE Enterprise™, iWAREHOUSE Essential™, and Raymond® are U.S. trademarks of The Raymond Corporation.

©2017 The Raymond Corporation. All rights reserved.