Raymond Announces Launch of Virtual Reality Simulator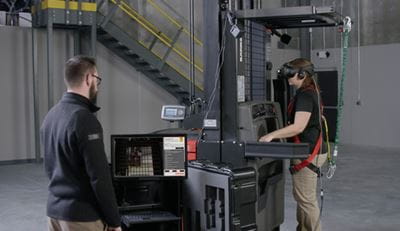 The Raymond Corporation has launched a Virtual Reality (VR) Simulator to serve as a supplemental tool to assist in the development of new and existing forklift operators.
GREENE, N.Y., January 8, 2018 — The Raymond Corporation has launched a Virtual Reality (VR) Simulator to serve as a supplemental tool to assist in the development of new and existing forklift operators.
The Raymond Virtual Reality Simulator allows the user to enter a simulated warehousing environment utilizing an existing Raymond® forklift truck by plugging into the company's patent-pending sPort, or Simulation Port. After the vehicle is no longer needed for instruction, the sPort can be disconnected and the forklift can be placed back into operation in the warehouse. Leveraging existing Raymond assets in a warehouse or distribution center's fleet eliminates the need to purchase or store purpose-built training trucks.
The Raymond Virtual Reality Simulator allows operators to become familiar and comfortable with the forklift and its controls prior to operating within the physical warehousing environment, thus building confidence. This platform affords operators the ability to learn within a controlled simulated environment, avoiding potential product and warehouse incidents.
The simulator is preloaded with forklift lesson modules for reach, orderpicker and stand-up counterbalanced lift trucks. Each truck model will include a series of guided lessons that increase in complexity and build upon principles learned in earlier lessons, providing the user with a consistent experience all while reinforcing desired behaviors.
The Raymond Virtual Reality Simulator instructor's panel allows the instructor to see exactly what the operator sees through three vantage points for optimal instructor visibility. This allows the instructor to provide real-time feedback to the operator. The simulator will collect and generate an operator report, providing documentation of the operators' progress and to communicate to the instructor which areas need to be focused on and reinforced.
"Raymond consistently strives to enable customers to be as productive and efficient as possible. By providing an enhanced simulator experience that allows the user to operate within a fully immersive virtual experience, the operator can have an extra layer of confidence before entering the actual warehouse floor," said Dave Norton, vice president of corporate quality and customer care at Raymond. "With the Raymond Virtual Reality Simulator, our goal is to educate operators in a stable environment and provide a baseline to evaluate them in the future."
Additional customer benefits of the Raymond Virtual Reality Simulator include:
The ability to pre-screen incoming forklift operator applicants.

Supplementary instruction between the classroom and hands-on forklift truck operation, as well as refresher instruction.

The capability to provide experiential learning in alternative scenarios.
To learn more about the Raymond Virtual Reality Simulator or to learn more about The Raymond Corporation, visit www.raymondcorp.com or call 800-235-7200.
About The Raymond Corporation
The Raymond Corporation is a global provider of end-to-end warehouse solutions, fleet management, forklift training and support to increase efficiency and lower costs throughout material handling operations. Raymond® forklifts are engineered to achieve higher performance, enhance operator comfort and increase efficiency. Raymond manufactures a full line of forklift trucks — including reach trucks, pallet jacks, pallet stackers, sit-down and stand-up forklifts, orderpickers and turret trucks. The iWAREHOUSE® fleet management and warehouse optimization system provides solutions to manage industrial vehicle fleets, labor efficiencies and warehouses. Additionally, flexible automation, customized solutions and industry-leading consultation from Raymond further enhance and streamline processes while helping customers to drive down costs. Raymond is a recipient of the 2015 and 2016 Manufacturing Leadership Award from Frost & Sullivan.
####
iWAREHOUSE® and Raymond® are U.S. trademarks of The Raymond Corporation.
©2017 The Raymond Corporation. All rights reserved.