Raymond Contributes to Over 140 Nonprofit and Educational Organizations in 2016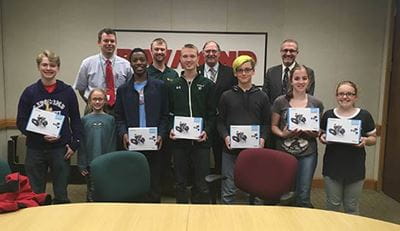 Raymond supports advancement of future technologies through nonprofit giving and education programs.
GREENE, N.Y. — In 2016, The Raymond Corporation contributed to over 140 nonprofit and educational organizations, concentrating its efforts on supporting the advancement of future technologies through education.
Raymond and its employees continuously support a number of nonprofit organizations with their time, monetary donations and participation in fundraising events. Here are some examples of their support this year:
• American Cancer Society: Raymond and its employees support a number of events for the American Cancer Society. Their team, Ray of Hope, raised over $4,800 and participated in the Making Strides Against Breast Cancer walk in October 2016.
• Disaster relief: Raymond and its network of Solutions and Support Centers continuously provide donations, forklifts or services to areas affected by natural disasters.
o In June, Malin, an authorized Solutions and Support Center, partnered with Raymond to donate $5,000 to the American Red Cross to aid in relief after flooding hit the Texas area earlier that month.
o Raymond Handling Consultants Corp., an authorized Solutions and Support Center, partnered with Raymond to donate a hand pallet truck to the Salvation Army in Haiti to assist with relief from Hurricane Matthew in October.
In addition to nonprofit community support, Raymond aids the advancement of technologies by supporting education and programs that revolutionize the future. Through financial contributions, facility tours, mentoring, a cooperative and other programs, Raymond continually collaborates with high schools, trade schools, colleges and universities. Here are a few highlights from the year:
• OpenLoop: Raymond is a sponsor of OpenLoop, an alliance of six universities combining resources and talent working to revolutionize the future of human transport. Competing in the SpaceX Hyperloop Design Competition, OpenLoop is working on designing and building a Hyperloop pod.
• Greene TRobots Robotic Club: Raymond continually supports the efforts of local organization robotics teams and organizations, as with the Greene TRobots Robotic Club. In November 2016, Raymond donated six MakeBlock robotic kits to the club. This educational, programmable electronic robot platform supports STEM (science, technology, engineering and math) education.
• National Manufacturing Day: Raymond highlighted innovation and simulation during this year's National Manufacturing Day event held in October. Over 250 students from Southern Tier of New York high schools, grades 10 to 12, attended Raymond's Innovation in Manufacturing event for National Manufacturing Day at Raymond's headquarters in Greene, New York. Students experienced virtual and hands-on activities reinforcing manufacturing as an ever-progressive industry.
"Every year, it continues to be important for Raymond to give back, both locally around Greene, New York, and in those communities surrounding our Solutions and Support Centers," says Steve VanNostrand, executive vice president of human resources at Raymond. "Through our work with nonprofits, we can help support causes that align with our own values and help provide relief to those affected by natural disasters. Raymond, too, is dedicated to the organizations and events that really make an impact on students and ready them to be the future workforce."
To learn more about The Raymond Corporation, visit www.raymondcorp.com or call 800-235-7200.
About The Raymond Corporation
The Raymond Corporation is a global provider of end-to-end warehouse solutions, fleet management, forklift training and support to increase efficiency and lower costs throughout material handling operations. Raymond® forklifts are engineered to achieve higher performance, enhance operator comfort and increase efficiency. Raymond manufactures a full line of forklift trucks — including reach trucks, pallet jacks, pallet stackers, sit-down and stand-up forklifts, orderpickers and turret trucks. The iWAREHOUSE® fleet management and warehouse optimization system provides solutions to manage industrial vehicle fleets, labor efficiencies and warehouses. Additionally, flexible automation, customized solutions and industry-leading consultation from Raymond further enhance and streamline processes while helping customers to drive down costs. Raymond is a recipient of the 2015 Manufacturing Leadership Award from Frost & Sullivan.
####