Raymond Supports STEM Education in 2015, Contributes to 75 Nonprofit Organizations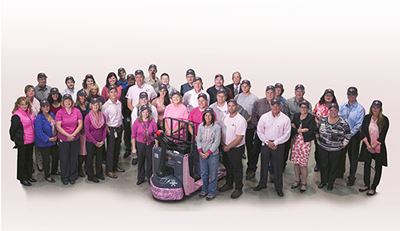 The Raymond Corporation contributed to 75 nonprofit organizations in 2015, as well as concentrated its efforts on science, technology, engineering and mathematics (STEM) education.
GREENE, N.Y. — The Raymond Corporation contributed to 75 nonprofit organizations in 2015, as well as concentrated its efforts on science, technology, engineering and mathematics (STEM) education. With this focus, Raymond is using its experts and their knowledge to aid in the development of the future workforce and impact its community.
In 2015, Raymond collaborated with high schools, trade schools, colleges and universities to stress the critical role STEM plays in manufacturing and the material handling industry. Through financial contributions, facility tours, mentoring, a cooperative and other programs, Raymond encouraged students to see manufacturing, engineering and related fields as viable choices for future careers. Here are a few highlights from the year:
National Manufacturing Day: In October, over 250 students from 12 Southern Tier of New York high schools attended National Manufacturing Day at Raymond's headquarters in Greene, New York. Students went on facility tours, participated in hands-on experiences, and heard about career possibilities from Rick Harrington, Raymond senior vice president of operations.
Southern Tier of New York Robotics Competition: Ninety-four students from nine Southern Tier of New York high schools showcased their talents by building and designing robots in an annual robotics competition. The competition gave students a chance to test their skills in science, technology, engineering and mathematics.
Raymond Co-op Program: Twenty-eight college and graduate students participated in the co-op program at Raymond headquarters in Greene, New York, working in departments ranging from engineering to accounting to marketing. These students were from a number of universities including Binghamton University, Clarkson University, Rochester Institute of Technology, Roger Williams University, St. Joseph's University and Syracuse University. Students from all universities and curriculums are encouraged to apply to Raymond's co-op program.
University Involvement:
Binghamton University - For the fourth year in a row, Raymond collaborated with the Thomas J. Watson School of Engineering and Applied Science on a Senior Capstone Design course, converting a go-kart from gas-powered to electric.
Cornell University - Students from the Cornell School of Engineering and the Samuel Curtis Johnson Graduate School of Management, regularly visit Raymond for facility tours, talks and hands-on experiences.
Rochester Institute of Technology (RIT) - Raymond supports post graduate work in Manufacturing Management at the Kate Gleason College of Engineering School.
"Working in part with educational organizations, we hope to encourage students to see careers in science, technology, engineering and mathematics as exciting and rewarding," says Steve VanNostrand, executive vice president of human resources at Raymond. "Raymond will continue to support STEM efforts in 2016 and we are eager to support the STEM fields of study as they're the future of our industry, as well as a multitude of other industries."
Additional organizations that Raymond supported this year include:
Breast Cancer Awareness Month: Raymond customized a Model 8210 pallet truck for Breast Cancer awareness month in October. Proceeds from each pallet truck purchased went to breast cancer research — totaling $5,000. Raymond also donated a customized truck for auction to the American Breast Cancer Foundation in Baltimore, Maryland.
No-Shave November: Raymond employees raised over $1,700 to raise awareness for men's health and the fight against cancer during No-Shave November. Raymond contributed to the employee's donation with an additional $1,000.
"Raymond continually supports its employees who selflessly give their time and raise donations for a number of causes," says VanNostrand. "We could not do all of these great things without our dedicated employees who believe in these causes as much as we do."
About The Raymond Corporation
The Raymond Corporation is a global provider of end-to-end warehouse solutions, fleet management, forklift training and support to increase efficiency and lower costs throughout material handling operations. Raymond® forklifts are engineered to achieve higher performance, enhance operator comfort and increase efficiency. Raymond manufactures a full line of forklift trucks — including reach trucks, pallet jacks, pallet stackers, sit-down and stand-up forklifts, orderpickers and turret trucks. The iWAREHOUSE® fleet management and warehouse optimization system provides solutions to manage industrial vehicle fleets, labor efficiencies and warehouses. Additionally, flexible automation, customized solutions and industry-leading consultation from Raymond further enhance and streamline processes while helping customers to drive down costs.


iWAREHOUSE® and Raymond® are U.S. trademarks of The Raymond Corporation.
©2015 The Raymond Corporation. All rights reserved.