ATD Selects Raymond for Excellence in Practice Recognition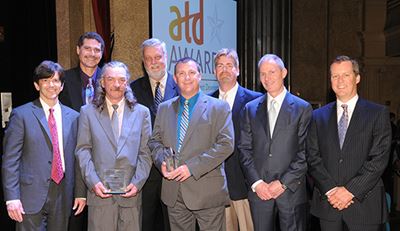 Raymond receives an award from the Association for Talent Development (ATD), formerly ASTD, for Excellence in Practice and a citation for its Course Manager Training and Development Program.
GREENE, N.Y. — The Association for Talent Development (ATD), formerly ASTD, honored The Raymond Corporation with both an Excellence in Practice Award and Citation for its Course Manager Training and Development Program. ATD's Excellence in Practice Awards program recognizes organizations for results achieved through the use of practices and solutions from the entire scope of talent development.
Awards are presented to organizations with proven practices that have delivered measurable business results in achieving organizational goals. Citations are presented to organizations with promising practices that have shown they will demonstrate measurable results.

"At Raymond, we are a learning and growing organization that supports, encourages and cultivates our employees, in turn helping to do the same for our customers," says Michael Field, chief executive officer for The Raymond Corporation. "To be recognized by the Association for Talent Development as a company that excels in our Course Manager Training and Development Program, not only here in the United States but internationally, reinforces the importance and effectiveness of our efforts."

ATD received 126 submissions in fall 2014 from organizations around the world. Thirteen organizations received awards and 30 were recognized with citations. Excellence in Practice categories are: career development, coaching and mentoring, diversity and inclusion, facilitating organizational change, integrated talent management, learning technologies, managing the learning function, organizational learning and development, performance improvement and sales enablement.

Raymond, along with other award and citation recipients, were honored May 18 at an awards ceremony held during ATD's International Conference & Exposition in Orlando, Florida.

Visit www.td.org for more information about the conference and awards programs.

To learn more about The Raymond Corporation, visit www.raymondcorp.com or call 800-235-7200.

About ATD
The Association for Talent Development (ATD), formerly ASTD, is the world's largest association dedicated to those who develop talent in organizations. These professionals help others achieve their full potential by improving their knowledge, skills, and abilities. ATD's members come from more than 120 countries and work in public and private organizations in every industry sector. ATD supports the work of professionals locally in more than 125 chapters, international strategic partners, and global member networks.
About The Raymond Corporation
The Raymond Corporation is a global provider of end-to-end warehouse solutions, fleet management, forklift training and support to increase efficiency and lower costs throughout material handling operations. Raymond® forklifts are engineered to achieve higher performance, enhance operator comfort and increase efficiency. Raymond manufactures a full line of forklift trucks — including reach trucks, pallet jacks, pallet stackers, sit-down and stand-up forklifts, orderpickers and turret trucks. The iWAREHOUSE® fleet management and warehouse optimization system provides solutions to manage industrial vehicle fleets, labor efficiencies and warehouses. Additionally, flexible automation, customized solutions and industry-leading consultation from Raymond further enhance and streamline processes while helping customers to drive down costs.


iWAREHOUSE® and Raymond® are U.S. trademarks of The Raymond Corporation.
©2015 The Raymond Corporation. All rights reserved.
You May Also Like: