Raymond Supports More Than 115 Nonprofit and Educational Organizations in 2014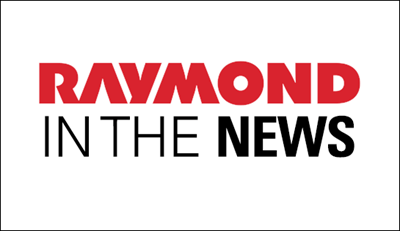 The Raymond Corporation announced it contributed to more than 115 nonprofit and educational organizations in 2014, providing tens of thousands of dollars in donations.
GREENE, N.Y. — The Raymond Corporation announced it contributed to more than 115 nonprofit and educational organizations in 2014, providing tens of thousands of dollars in donations.
"Raymond is pleased to support organizations that help enrich the lives of so many people," says Steve VanNostrand, executive vice president of human resources at Raymond. "We are especially proud of our employees and their countless hours of volunteering and fundraising."
Among the organizations that Raymond supported this year are:
Ball Flats Park: Raymond donated $10,000 to a community project in Greene, New York, to rebuild a children's playground at Ball Flats Park, which was destroyed by flooding in recent years.
Trinity Foundation Muscatine Capital Campaign: In July 2012, Raymond committed to support the Trinity Foundation Muscatine Capital Campaign in Muscatine, Iowa, for three years, at the $15,000 level each year for a total of $45,000 by the end of 2014. Among the capital improvements are upgrades to a local hospital, including an enlarged, newly constructed facility with enhancements to the emergency department, radiology, surgery and laboratory.
YMCA Corporate Challenge: Raymond was one of the largest corporate participants in the Broome County YMCA Corporate Challenge, which encourages team spirit among employees and raises money for the local YMCA.
Making Strides Against Breast Cancer Walk: This year, Raymond employees raised the second-largest total of contributions among companies supporting the Making Strides Against Breast Cancer Walk in Binghamton, New York.
Raymond also advocates for numerous local school systems, community colleges, technical colleges and universities through financial contributions, facility tours, mentoring, and co-op and other programs:
Binghamton University: For the third academic year in a row, Raymond collaborated with Binghamton University's Thomas J. Watson School of Engineering and Applied Science on a Capstone Design course that encourages students to apply their engineering skills to convert a gas-powered go-kart into an electric-powered go-kart.
Cornell University: Raymond sponsored the Cornell University College of Engineering's first Resistance Racing Electric Motor team with a $1,000 donation to the college's School of Electrical and Computer Engineering. In addition, Raymond engineers advised students on electrical and hardware components for electric vehicles.
For more information on Raymond or to locate a Raymond authorized Sales & Service Center, visit www.raymondcorp.com or call 800-235-7200.
About The Raymond Corporation

The Raymond Corporation is a global provider of unmatched material handling technology, expertise and support to increase productivity and cost-efficiency. Designed with ecological and economical benefits in mind, Raymond® lift trucks are engineered to achieve higher performance and increase efficiency. Raymond offers a full line of manual and electric lift trucks — including pallet trucks, walkie stackers, counterbalanced trucks, reach trucks, orderpickers and turret trucks — and iWAREHOUSE®, complete with iWAREHOUSE Essential™ and iWAREHOUSE Enterprise™, to manage lift truck fleets, labor efficiencies and warehouses. Additionally, flexible automation solutions and industry-leading consultation from Raymond further enhance warehouse processes and streamline material handling practices.

iWAREHOUSE®, iWAREHOUSE Enterprise™, iWAREHOUSE Essential™ and Raymond® are U.S. trademarks of The Raymond Corporation.
© 2014 The Raymond Corporation. All rights reserved.