Raymond Recognized as 2014 Top Green Provider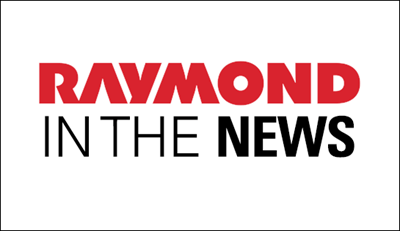 The Raymond Corporation has been recently recognized as a top green provider and partner by two industry publications—Food Logistics and InBound Logistics magazines—for its sustainability practices.
GREENE, N.Y. - The Raymond Corporation has been recently recognized as a top green provider and partner by two industry publications—Food Logistics and InBound Logistics magazines—for its sustainability practices. Raymond is committed to preserving and protecting the environment across all business activities by designing, developing and manufacturing products using materials, methods and technologies that minimize risk and adverse impacts.
Raymond was recognized as the 2014 Top Green Provider by Food Logistics magazine, a publication dedicated exclusively to the food and beverage supply chain. The Top Green Providers focuses on sustainability in the global food supply chain focusing on companies who are exceeding industry standards in their sector. "In the food and beverage sector, sustainability and environmental stewardship are primary considerations given the unique relationship between businesses in this sector and our planet's natural resources," explained Lara L. Sowinski, editor-in-chief for Food Logistics. "Our 2014 list of Top Green Providers includes agricultural companies, 3PLs, temperature-controlled facilities and others who demonstrate leadership in sustainability, which in turn positively affects their customers as well."
Raymond also received recognition as a 2014 Top 75 Green Supply Chain Partner by InBound Logistics magazine, a publication dedicated to the logistics and supply chain sector. The selection process considers a company's involvement in three areas: participation in public-private partnerships; corporate sustainability initiatives; and collaborative customer-driven projects.
"Supply chain sustainability has always been top of mind for Inbound Logistics readers. The 75 Green Supply Chain Partners is a very select group, and we found Raymond to be one of those companies that is truly 'walking the walk' when it comes to supply chain sustainability," says Felecia Stratton, Editor, Inbound Logistics. "The G75 list represents 75 visionaries who have demonstrated a long-standing history of driving efficiencies in their customers' operations and an internal commitment to be as lean and green as possible. Inbound Logistics is proud to honor Raymond among this important group of industry-changing leaders."
For more information on Raymond or to locate a Raymond authorized Sales & Service Center, visit www.raymondcorp.com or call 800-235-7200.
About The Raymond Corporation
The Raymond Corporation is a global provider of unmatched material handling technology, expertise and support to increase productivity and cost-efficiency. Designed with ecological and economical benefits in mind, Raymond® lift trucks are engineered to achieve higher performance and increase efficiency. Raymond offers a full line of manual and electric lift trucks — including pallet trucks, walkie stackers, counterbalanced trucks, reach trucks, orderpickers and turret trucks — and iWAREHOUSE®, complete with iWAREHOUSE Essential™ and iWAREHOUSE Enterprise™, to manage lift truck fleets, labor efficiencies and warehouses. Additionally, flexible automation solutions and industry-leading consultation from Raymond further enhance warehouse processes and streamline material handling practices.
About Food Logistics
Food Logistics is published by Cygnus Business Media, a leading diversified business-to-business media company. The publication serves the information needs of executives involved in various aspects of the global food and beverage supply chain. Through our print and online products, we provide news, trends, and best practices that help more than 24,000+ grocery and foodservice suppliers, distributors, and retailers make better business decisions. Visit us online at www.foodlogistics.com.
About Inbound Logistics
Since its inception in 1981, Inbound Logistics' educational mission is to illustrate the benefits of demand-driven logistics practices, give companies the knowledge to help them match the inbound flow of materials to their demand, and align their business process to support that shift. Inbound Logistics offers real-world examples and decision support to guide businesses to efficiently manage logistics, reduce and speed inventory, and offset rising transport costs, supporting business scalability across their value chain. More information about demand-driven logistics practices is available at www.inboundlogistics.com.
Elizabeth Buza
Marketing Communications
[email protected]
607-656-2734
Megan Price
Bader Rutter & Associates, Inc.
Public Relations
[email protected]
262-938-5469
Above. And beyond.®, iWAREHOUSE®, iWAREHOUSE Enterprise™, iWAREHOUSE Essential™ and Raymond® are U.S. trademarks of The Raymond Corporation.
©2014 The Raymond Corporation. All rights reserved. ####