Raymond Appoints New Chief Executive Officer, New President of Sales and Marketing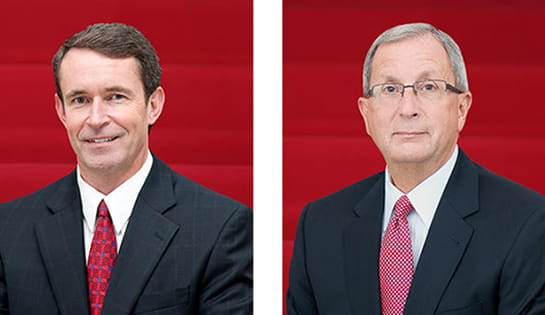 The Raymond Corporation announced key organizational updates to its executive team: the appointment of Michael Field as chief executive officer, and Tim Combs as president of sales and marketing at Raymond — both effective April 1, 2015. Pictured, left to right: Michael Field, chief executive officer, and Timothy Combs, president, sales and marketing
GREENE, N.Y. — The Raymond Corporation today announced key organizational updates to its executive team: the appointment of Michael Field as chief executive officer, and Tim Combs as president of sales and marketing at Raymond — both effective April 1.
In his new role, Field will oversee the operations, engineering, sales and marketing, and administrative functions at Raymond. Since he joined Raymond in 2004, Field has served as the vice president of engineering and, most recently, president of operations and engineering.
As president of sales and marketing at Raymond, Combs will lead sales and marketing activities, including distribution development. He currently is the executive vice president of sales and marketing for Raymond.
"Raymond's strong performance in recent years can be attributed to its continual improvement and response to customer and market dynamics supported by a world class dealer network," says Brett Wood, president and chief executive officer of Toyota Material Handling of North America. "The company's record market share, strong production volumes and industry-leading manufacturing are a direct result of our employees' hard work and dedication. In addition, our success is a testament to the strong leadership of our executive team, including Mike Field and Tim Combs. I am pleased to announce these important appointments and look forward to Raymond's continued growth."
For additional information about The Raymond Corporation or to locate a Raymond Solutions and Support Center, visit the company website at www.raymondcorp.com or call 800-235-7200.
About The Raymond Corporation
The Raymond Corporation is a global provider of unmatched material handling technology, expertise and support to increase productivity and cost-efficiency. Designed with ecological and economical benefits in mind, Raymond® lift trucks are engineered to achieve higher performance and increase efficiency. Raymond offers a full line of manual and electric lift trucks — including pallet trucks, walkie stackers, counterbalanced trucks, reach trucks, orderpickers and turret trucks — and iWAREHOUSE®, complete with iWAREHOUSE Essential™ and iWAREHOUSE Enterprise™, to manage lift truck fleets, labor efficiencies and warehouses. Additionally, flexible automation solutions and industry-leading consultation from Raymond further enhance warehouse processes and streamline material handling practices.
About Toyota Material Handling North America
Toyota Material Handling North America (TMHNA), the industry leader in forklift sales, is composed of three main group companies: Toyota Material Handling U.S.A., Inc.; Toyota Industrial Equipment Mfg., Inc.; and The Raymond Corporation. Together, the TMHNA companies produce an average of 1,620 forklifts per week, and one in three forklifts sold in North America is either a Toyota or Raymond product. TMHNA develops, manufactures and distributes award-winning material handling products from 1.8 million square feet of manufacturing and office space, including three plant locations in Columbus, Indiana; Greene, New York; and Muscatine, Iowa. With an annual revenue of approximately $3 billion, TMHNA has more than 7,300 people and 318 dealer locations to support Toyota and Raymond customers.
####
iWAREHOUSE®, iWAREHOUSE Enterprise™, iWAREHOUSE Essential™ and Raymond® are U.S. trademarks of The Raymond Corporation.
©2015 The Raymond Corporation. All rights reserved.
You May Also Like: