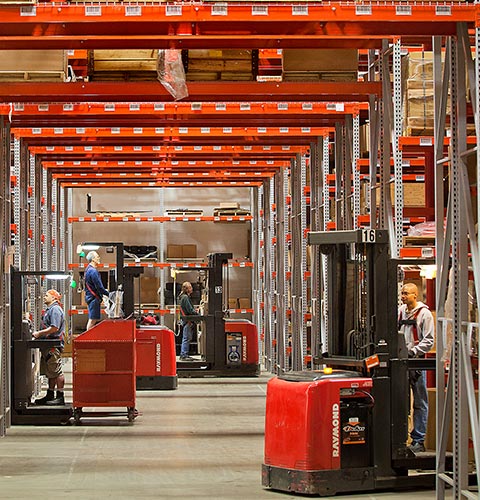 Order picking is often perceived as a simple warehouse activity. However, in reality, it is a fairly complicated process that requires the right lift trucks, warehouse layout, methods, and technologies to maximize efficiencies and productivity within a facility. Having a full understanding of what order picking is, is important in being able to implement the right solution. Order picking is the process of locating and picking a product to fulfill a customer order, and then packing and shipping it to eventually arrive to the customer.
The type of products you are picking and volume at which you are picking will help determine the best lift truck or combination of lift trucks for your operation. Whether it is a warehouse lift, a 2nd level Orderpicker, or a high level Orderpicker, we can work with you to implement the optimal solution.
Warehouse Lifts

---
Alternatives to ladders and ideal for stocking shelves and performing other elevated tasks, our variety of warehouse lifts offer a compact design enabling operators to perform elevated tasks more quickly, simply, and securely.
Sprint
+Ideal for stocking/picking and other elevated tasks
+Working height of 17.5 feet
+198lb tray capacity
+Electric drive and lift mechanisms


SpinGo
+Ideal for stocking shelves, order picking, and handling small packages
+Working height of 13.5 feet
+198lb tray capacity
+Tight turning radius
2nd Level Orderpickers

---
These Rider Pallet Trucks allow operators to access twice the number of pick slots without adding to your existing warehouse footprint. Choose the option that best matches the frequency of your 2nd level picking and tailor the truck with customizable options to further increase your picking productivity.
8410
+Ideal for occasional 2nd level picking
+44" platform height
+3 pyramid step design
+Single, double, or triple fork lengths available

8720
+Ideal for frequent 2nd level picking
+47" platform height
+Hydraulic operator compartment
+Single, double, or triple fork lengths available
Orderpickers

---
Designed to accommodate a variety of applications ranging from the lightest loads in retail environments, to the heaviest SKUs in the busiest distribution centers, these trucks offer the broadest range of capabilities available on the market. They also allow you to optimize storage capacity by operating in narrow aisles and at high picking levels.

+Ideal for piece or case picking applications
+390" maximum height
+3000 lb. capacity
+A variety of customizable options available to match your application
---

Contact Us
Interested in learning more about how you can increase productivity with Raymond's order picking solutions? Please complete the form below and a Raymond representative will contact you to discuss our second level order pickers.
Please fix the following errors and resubmit.
Steps for More Efficient Order Picking

---
+ Establish inventory management and tracking systems to ensure that the items are available and able to reach the customer in a timely manner
+ Store the fastest moving items, those that account for about 80% of picks in forward locations, typically near loading docks, followed by products that account for about 15% of picks and the slowest movers in the back.
+ Position family items, kits, and products typically sold together in close physical proximity to facilitate quicker order fulfillment.
+ Keep the heavier items on lower shelving or racking so other items don't have to be moved out of the way to access them.
+ Consider implementing 2nd level order picking capabilities within your facility to provide additional access to SKUs and improve picking accuracy.
+ As a general rule, employees should only pick, pack, or handle items that weigh between 40-80lbs.
Take On Technology

As order picking averages 55% of operating costs and takes up approximately 70% of operating time, you are likely looking for opportunities to reduce the implications this has on your bottom line. Incorporating operator assist technologies increases operator proficiency, accuracy, and productivity, ultimately assisting in the optimization process by creating efficient labor processes and leading you to automation. We offer systems designed for a variety of lift trucks to improve your order picking processes.
Pick2Pallet LED Light System

The Pick2Pallet LED Light System is a pick to light system designed to help reduce picking errors by using LED technology to visually reinforce product placement for order fulfillment in batch picking applications.

Learn More

Zoning
and Positioning

Zoning and Positioning (ZaP) options ensure more reliable, repeatable truck operation by automatically controlling truck functions, allowing operators to focus on their surroundings and the task at hand.

Learn More

In-Aisle Detection System

The In-Aisle Detection System is an application specific feature that automatically displays 'sensor stop' on the truck display, sounds an audible alarm, and decelerates a truck to a complete stop whenever it detects certain objects in its path (tractor first) and when locked on a wire in very narrow wire guided aisles.

Learn More